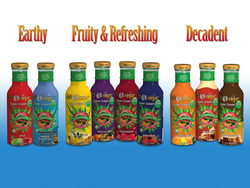 Have You Fed Your Cells Today?
Weston, CT (Vocus) March 8, 2010
Cell-nique is the first ready-to-drink Organic Super Green drink to hit the market and nourish the body in a whole new liquid way. Cell-nique is 100% isotonically perfect, sending the nutrients directly into the bloodstream to a cellular level.
It is formulated to fight the effects of acidic build up by promoting the cleansing and detoxification of cells through an infusion of plant-based phyto-nutrients and antioxidants.
"Take the Cell-nique Journey by trying all 9 flavors and seeing for yourself which taste you desire. We have categorized each experience to help you decide what will quench your mood", says Donna Ratner, Co-Founder of Cell-nique.
Flavor categories include EARTHY: Japanese Roasted Tea, Apple; FRUITY & REFRESHING: Pomegranate, Lemon-Ginger, Tropical, Berry-Grape; DECADENT: Citrus Vanilla, Root Beer, Dark Chocolate.
A protein-packed beverage loaded with 31 Super Green Foods that nourish, cleanse and alkalinize the body, Cell-nique is different from other premium drinks – it is a nutrient-rich Super Green beverage that is low in calories and contains no added sugar.?
Made with organic Super Green foods such as Spirulina, Chlorella and Blue-green algae as well as cereal grass juices and sprouts like barley, wheat, oats and alfalfa, Cell-nique also contains the high anti-oxidant Super Fruits like Noni, Goji berry, and Acai.
These ingredients have more nutrients than common vegetables, fruits and grains. Drinking a single bottle of Cell-nique provides the equivalent nutrients found in 6 to 8 servings of fruits and vegetables.
Drink one bottle of Cell-nique every day for a week and become aware of an improvement in Stamina, Focus, Energy, Balance, Calmness, Mental Clarity, Strength Building, Bowel Regularity, Cravings, Confidence, Sleep, Mood, & Skin.
Feeding the cells every day with Cell-Nique's 31 Super Foods will assist in fortifying the blood to pump and nourish the organs. It will aid in Detoxification, Alkalining, Digestion, Weight Control, Boosting Immunity, Anti-Aging and Oxygenation.
Each bottle is Gluten-Free, Low-Glycemic and Vegan.
"Have You Fed Your Cells Today?"
###