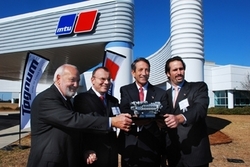 The new facility in Aiken County is part of Tognum's global strategy to increase manufacturing in the markets where our products are sold.
Aiken County, SC (Vocus) March 6, 2010
MTU Detroit Diesel, Inc. confirmed today that it will be opening a new manufacturing facility in Aiken County, SC where it will begin building Series 2000 and Series 4000 engines by the end of the year. MTU is a subsidiary of the Germany-based Tognum Group, a global leader in diesel propulsion and power systems. The 270,000 square foot facility will replace the existing assembly plant near Detroit, Michigan and will allow for future expansion as market demand increases over the coming years.
"The new facility in Aiken County is part of Tognum's global strategy to increase manufacturing in the markets where our products are sold," says Matthias Vogel, President and CEO, MTU Detroit Diesel, Inc. "With it we will have greater flexibility to respond to market conditions and to compete for government contracts where local content is key."
MTU will take over the former SKF USA plant in the Sage Mill Industrial Park in Graniteville, South Carolina. The Tognum Group, MTU's parent company, has committed to a $45 million investment in the new facility that is expected to bring 250 jobs to the Aiken area over the next four years.
"Tognum's decision to make a substantial investment of capital and jobs in our state is a telling indication of South Carolina's ability to attract world-class companies. As well, today's announcement is another sign that we're making significant progress toward bettering our state's business climate and making us more competitive by lowering taxes and easing regulatory burdens. We welcome MTU to South Carolina and applaud the hard-working team at the state Department of Commerce and the local economic developers for their efforts in bringing job opportunities to Aiken County," says Governor Mark Sanford.
In addition to Series 2000 and Series 4000 assembly, MTU will also machine engine parts such as cylinder heads and other large engine components that are costly to ship overseas from Germany. Local machining in the U.S. will make MTU less susceptible to currency fluctuations between the Dollar and Euro and avoid the high cost of importing parts from Europe.
MTU expects to begin hiring for the new plant in May with production beginning in October. Potential job seekers and suppliers are encouraged to send inquiries to MTUaiken(at)mtu-online(dot)com.
About MTU
MTU Detroit Diesel, Inc. is the North American regional headquarters of MTU Friedrichshafen GmbH, one of the world's most important providers of diesel engines and drive and propulsion systems for ships, heavy-duty land and rail vehicles, and distributed energy. It offers a complete line of power solutions from 30 to 12,200 bhp (20 to 9,100 kW) for applications in the marine, rail, power generation, oil and gas, agriculture, mining, construction and industrial, and defense markets. MTU Detroit Diesel, Inc. is the sales and after-sales organization of the Tognum Group in North America. http://www.mtu online.com
Tognum
With its two business units, Engines and Onsite Energy & Components, the Tognum Group is one of the world's leading suppliers of engines, propulsion systems and distributed energy systems. These products are based on diesel engines with up to 9,100 kilowatts (kW) power output, gas engines up to 2,150 kW, fuel cells up to 345 kW and gas turbines up to 45,000 kW.
The product portfolio of the Engines business unit comprises MTU engines and propulsion systems for ships, for heavy land, rail and defense vehicles and for the oil and gas industry. The portfolio of the Onsite Energy & Components business unit includes distributed energy systems of the brand MTU Onsite Energy and fuel-injection systems from L'Orange. The energy systems comprise diesel engines for emergency standby power, prime power and continuous power, as well as cogeneration power plants based on gas engines, fuel cells and gas turbines that generate both power and heat.
In 2008, Tognum generated revenue of more than €3.1 billion and employs more than 8,900 people. Tognum has a global distribution and service structure with 24 fully consolidated subsidiaries, more than 140 sales partners and over 500 authorized dealerships at approximately 1,200 locations. The shares of Tognum AG (ISIN: DE000A0N4P43) have been stock-exchange listed since 2007 and are included in the MDAX.
###