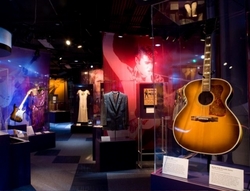 A Back Stage Pass to Rock and Roll – Own A Piece of History
(PRWEB) March 6, 2010
OLS Trading, Inc./Rasmus Auctioneers have the privilege of offering these assets to the public. The Annex, a 25,000 square foot facility, offshoot to the museum in Ohio opened to fanfare in November 2008 with Mayor Michael Bloomberg hailing it as another cultural destination for visitors to New York City. The Annex housed hundreds of artifacts, from Bruce Springsteen's 1957 Chevrolet, a white Vox electric guitar from the Beatles, and handwritten lyrics to "U.S.Blues" by the Grateful Dead to the wooden phone box from CBGB, the popular music venue that launched New York's punk scene in the 1970s and established the careers of The Ramones, Talking Heads, and Blonde!
The Rock and Roll Annex swept visitors beyond the typical museum experience on to a dynamic and immersive musical journey through the defining moments in rock and roll history, exploring the R & B, Hip Hop, and Blues Rock artists who changed our world – James Brown, Elvis, Chuck Berry, The Who, Patti Smith, Coldplay, Velvet Underground, David Byrne, Billy Joel, John Lennon, Madonna, Hendrix, Dylan and many others.
Now you can own rock and roll history. Catalog and Online Bidding – Rasmus.com. Do not delay – check it out today.
Remarketing assets since 1962, OLS Trading, Inc. is an industry leader in the nationwide development and implementation of furniture, fixture, and equipment sales within a "green" model. With an infrastructure of affiliations, processes, and sales models that affords clients the greatest range of sales venues and options, OLS, a full service partner, optimizes and completely manages projects for clients busy with renovations, moves, closings, mergers, and acquisitions assisting in not only the green disposal of excess assets but also the acquisition of green assets. Embracing this full service and "green" mindset is a priority and best practice for OLS Trading, Inc. not only when providing liquidation services for an organization such as The Rock and Roll Hall of Fame Annex – once a showcase of selected artifacts from The Rock and Roll Hall of Fame – but for every client, no matter how large or how small. olstrading.com.
###