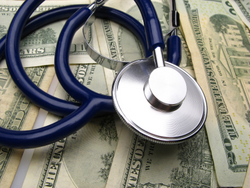 I talk with frustrated patients every day who just want the piles of medical bills to disappear and the annoying phone calls from collection agencies to end
Naples, FL (PRWEB) March 8, 2010
http://www.LifeBridgeSolutions.com [AttackMedicalBills.com, a newly formed division of LifeBridge Solutions, LLC, was launched to provide medical billing advocacy services to consumers nationwide. The medical lingo, indecipherable invoices, and "explanations of benefits" confuse most people. If you're sick, injured, or caring for a loved one, dealing with red tape can be even harder.
Medical billing advocates help consumers find errors in their bills, appeal denials to their insurers, and negotiate lower fees with medical care providers. Finding overcharges or errors can be especially helpful for patients with high deductibles and those who are paying for their helath care costs out-of-pocket. Medical billing advocates can also assist consumers when it is time to select their insurance plan whether they receive coverage through Medicare, their employer, or purchase an individual policy. Important comparisons must be made, and consumers don't need to do it alone.
Patients have the right to appeal if health insurance claims are denied. But the appeals process is complicated, frustrating, and time consuming. In addition, there are time limits for appeals and if they pass it can be impossible to achieve a successful resolution. This makes that upaid bill the patient's responsibility. A medical billing advocate speaks the insurer's language and can help knock down the barriers to getting the claim processed correctly or an appeal conducted in a timely manner.
"I talk with frustrated patients every day who just want the piles of medical bills to disappear and the annoying phone calls from collection agencies to end", said Sheri Samotin, founder and President of AttackMedicalBills.com. "Our clients are honest people who simply don't understand how a paper they receive in the mail that says 'this is not a bill' can turn into such a nightmare. They often don't realize, until it's too late, that health insurance doesn't pay for every penny or medical care or that there are so many nuances from plan to plan. AttackMedicalBills.com was formed to serve these people by helping them clean up their medical bill mess."
AttackMedicalBills.com offers a variety of medical bill advocacy plans ranging from pay-as-you-go at an hourly rate to plans based on success where you only pay if we save you money. As Ms. Samotin notes, "Our Full Service Plan combines the best of both worlds and is designed for patients who want their advocate to review bills as they come in and address errors and denials as they arise. This offers clients the comfort that any issues will be identified right up front, eliminating the risk that important appeal deadlines will pass. This plan is great for patients with chronic conditions who see many doctors or who are newly diagnosed with cancer, are about to have surgery, or are having a new baby since all of these scenarios mean that free time is probably scarce and stress levels are high."
Download a free article to learn what a medical billing advocate can do for you and handy tips for dealing with health insurance claims.
AttackMedicalBills.com is a division of LifeBridge Solutions, LLC. In addition to medical billing advocacy, LifeBridge Solutions offers family transition coaching for baby boomers and their aging parents, along with daily money managment and household transition services. Visit us at http://www.LifeBridgeSolutions.com.
###