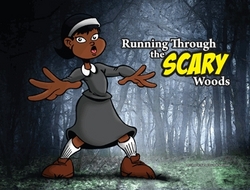 The story is told of a little girl whose life was purposed to do incredible things. Before this little girl could do the incredible things which God had designed for her life, she had to run through many scary woods.
Orlando, FL (PRWEB) March 12, 2010
Inspired by real-life events, Running Through the Scary Woods, ($9.95, paperback, 978-0-9825734-9-5) by Lilease W. Hall and Raichelle "Rai" Hall Glover, takes us on the journey of a young girl who had to run through scary woods to achieve her goals.
"In a most uncanny, but welcomed manner, this tale of a young girl's courageous struggle in the 1920's and 1930's with fear and spiritual reliance foretells the everyday struggles of men and women facing the unknown and unfathomable. The story is more than a tale of one girl's triumph over obstacles--it provides a graphic paradigm for anyone who has to grapple with fear in the modern world. The story grabs you from the first paragraph and never lets you go! The authors have provided us with a blueprint for spiritual survival and an overcoming spirit in an otherwise daunting and foreboding world," says Dr. Benjamin L. Hall, III, Minister and Attorney of the Renown Hall Law Firm in Houston, Texas (http://www.bhalllawfirm.com).
In celebration of its launch, copies of Running Through the Scary Woods have been donated to Mothering Across Continents (MAC) literacy and education efforts in Africa. The first use will be as a feature book in a program to help teachers learn and instruct in English at a remote school in northern Rwanda. Also, a percentage of sales from copies of Running Through the Scary Woods will be donated to Mothering Across Continents, a 501c3 non-profit organization of women catalysts and social entrepreneurs that believe mothering is the act of raising responsible citizen leaders around the world.
Lilease Wannamaker Rogers Hall served as an educator for nearly 60 years and was the recipient of numerous awards. Lilease studied locally and abroad. She taught French and English at a number of high schools, colleges and universities. She is known as a maverick because of her independent stand. As an instructor until the age of 85, she leads the way for persons to think outside of the norm, according to her daughter, Dr. Everlyn Hall-Baker, A God-Called Family Physician in Charlotte, North Carolina.
Because of Lilease's continuous desire to serve the needs of others during the "scary woods" of uncertainties when aging, her daughter, Naomi, established Extended Loving Care in honor of Lilease and her husband, Benjamin. Extended Loving Care provides care and services to senior adults living in Columbia, South Carolina.
Raichelle "Rai" Hall Glover is the youngest daughter of Lilease Hall. Rai's mother began this story of her own life. Rai took her mother's writings and finished the book so that it could be a gift to her mother on her eighty-seventh birthday, February 22, 2010. Learn more at http://www.RaiGlover.com.
NewBookPublishing, a division of Reliance Media, helps Christian authors edit their manuscripts, publish, print and successfully market their books nationwide. The unique experience with NewBookPublishing.com makes the whole process, from manuscript through book sales, easy and highly profitable for authors.
###