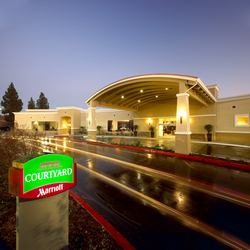 Sacramento, CA (PRWEB) March 7, 2010
New and exciting things have been happening at the Courtyard Sacramento Cal Expo with a hotel renovation that has included television upgrades, new mini refrigerators, and a grand new look for the hotel's lobby and lounge. Guests at this redecorated hotel near downtown Sacramento will find these fabulous changes provide a whole new attitude for time spent in a hotel room. Striving to create a warm and welcome atmosphere where guests can find true comforts and relaxation, whether traveling for business or pleasure, the hotel has gone to great lengths to accelerate the amenities guests have come to know and expect.
All of this hotel's spacious one-bedroom suites and studio rooms have been renovated to include new 32" flat screen HD-ready TVs and, coming in 2010, a 24-channel HD viewing package so guests will be able to receive high quality entertainment within their room and a greater opportunity for rest and relaxation after a busy day. With cable/satellite service, premium movie channels and pay-per-view movies the entertainment options in these hotel rooms are some of the best in Sacramento.
"Our renovations really focus on the time our customers spend in the room," said Property Manager Doug Warren about the recent upgrades and renovations. "We are thrilled to offer our customers an opportunity to relax and enjoy wonderful video quality on our new equipment, also it give us a chance to stand out from our local competition who don't offer the amenities that we do."
The great hotel guest rooms at the Courtyard Sacramento Cal Expo are also now equipped with new mini refrigerators in the hotel's 73 double queen rooms and suites, along with the standard coffee maker and tea service to ensure every convenience that will allow for a more relaxing stay. And, of course, this impressive hotel provides luxurious Marriott bedding that includes fine, crisp linens, custom comforters and two types of pillows to ensure every opportunity for a good night's rest.
At this hotel near Cal Expo, rooms are also equipped with a well-lighted work area and free wired and wireless high speed Internet. Two phones are conveniently located within each room and provide voicemail services and speaker phone capability.
Fresh new lobby furniture welcomes guests to enjoy the spacious area for visiting and relaxing on comfortable couches and chairs surrounded by upscale hotel décor and access to complimentary wireless Internet throughout the hotel property. The hotel's newly remodeled lounge located on-site next to the Marriott Courtyard Panini Grill provides another area for guests to relax and unwind in a fresh new casual atmosphere.
When morning comes, the hotel offers its guests a quick start to every morning with its complimentary breakfast of fine pastries, hot and cold cereals, fresh fruit and yogurts, all served in the breakfast room, next to the newly remodeled lobby. The hotel near Sacramento SAC airport has also added a Starbucks kiosk, offering a variety of Starbucks favorites for the convenience of hotel guests.
# # #