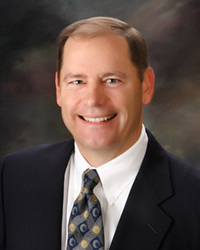 I believe my years of experience in the Financial Services industry in increasingly challenging roles make me an ideal candidate for the office.
Thousand Oaks, CA. (PRWEB) March 5, 2010
Thomas K. "Keith" McLaughlin announced today that he will run for Treasurer of Ventura County. Mr. McLaughlin has over twenty-two years of high-level financial experience. His professional career began in Public Accounting, where he earned a CPA credential in 1984 (inactive since 1987). In 1986, he joined Countrywide Financial Corporation (then Countrywide Credit Industries, Inc.) as a Senior Financial Analyst. Mr. McLaughlin was soon promoted to Treasurer of Countrywide, a position he held for several years. His last position at Countrywide was Chief Financial Officer, which he held from December, 2001 until his departure from Countrywide in March, 2005.
A graduate of Thousand Oaks High School, Mr. McLaughlin has lived in Ventura County for over thirty years. "I very much look forward to the opportunity to serve the residents of Ventura County as their Treasurer", Mr. McLaughlin said. "If elected, I will focus on prudent financial management and on maintaining a high level of service to all the Treasury department's clients, including the taxpayers. I believe my years of experience in the Financial Services industry in increasingly challenging roles make me an ideal candidate for the office."
###