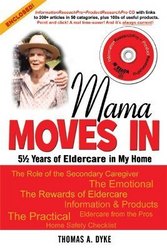 What healthcare professional, Irene Broussard, R.N., CRNA says about Mama Moves In and the Research CD, 'The right tools in the right place at the right time.'
Austin, TX (PRWEB) March 16, 2010
Whether the motivation to move an aging or elderly parent into a Baby Boomer's home is economics, love or both, the challenges are the same—how to prepare for and manage elder care for an aging parent in a Baby Boomer's home.
The effects of the Baby Boomers' generation have moved through society like a swallowed pig through an Anaconda. First it was pediatricians and diapers, then grade schools and high schools, then autos and homes and so on. But now that those same Boomers are getting ready for retirement a sobering challenge confronts them.
Baby Boomers are facing the greatest challenge of their generation--what to do with their aging parents. Click here. And there are over 70,000,000 Boomers with millions of parents who need elder care—now!
As the economy turns down, Baby Boomers are left with fewer and fewer good choices. The Boomers share of society's income and assets shrinks as the economy shrinks. There will be less income and fewer assets to allocate to elder care for the Baby Boomers' aging parents. Regardless, soon it will be, "my home or the rest home," for an elderly parent.
Many Boomers will conclude that the rest-home facilities that Medicare will cover are not desireable for an aging parent. Other Boomers might insist that aging parents belong in a Boomer's home. But economics could make the Boomers' decisions. For more about the economy and elder care, Click Here.
How can Baby Boomers prepare to give in-home elder care for an aging and elderly parent? Mama Moves In and the companion Research CD, "are the right tools in the right place at the right time," according to Irene Broussard, R.R., CRNA. The book, Mama Moves In, is a dress rehearsal for elder care in a Baby Boomer's home based on 5 ½ years of elder care experience in the author's home. To read what the professionals have to say, Click Here.
With the state of the economy, options are getting more limited. The Boomers have to explore in-home elder care for elderly and aging parents,, and there is a dearth of written and digital information designed to assist with in-home elder care. The books have not been written, and there are no organized research tools other than the search engines. Searches using any of today's powerful search engines result in thousands and thousands of "hits." And it takes time to wade through the "hits" to glean the information needed at the moment.
InformationResearchPro and ProductResearchPro on the Research CD provide quick and easy access to both elder care information and elder care products, respectively.
How about a Free copy of Mama Moves In and the Research CD? Visit Dyke Publishing and register to win one of ten copies of Mama Moves In and the Research CD. Click Here. Win a Free copy of Mama Moves In and the Research CD.
The elder care information in ResearchPro comes from elder care professionals—doctors, nurses and other elder care professionals as well as federal and state governments. What Boomers need to know from Alzheimer's and Dementia to Drugs and Drug Plan Benefits to Medicaid and Medicare to Safety and Social Security Benefits to Wills & Trusts is available quickly and easily with a few clicks of a mouse. InformationResearchPro organizes over 150 categories of elder care information. Boomers can find all of the elder care information needed.
Boomers can shop for hundreds and hundreds of elder care products for aging parents--products that save time for the elder care provider and make life easier for the aging parent. ProductResearchPro organizes products into categories that can be searched quickly and easily. And this includes drugs for the elderly. Boomers can shop, compare prices and buy for front-door delivery.
For more information about Mama Moves In and the Research CD, Click Here.
###