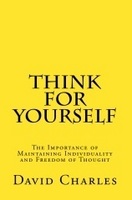 "The Individual Life Always Matters"
Los Angeles, Calif. (PRWEB) March 8, 2010
Think For Yourself: The Importance of Maintaining Individuality and Freedom of Thought by author David Charles, discusses the significance of taking charge of your destiny and living life on your own terms.
With a personalized look into today's growing global society, this book succinctly explores the necessity of maintaining clear and enlightened thinking on a variety of key subject matter. Filled with personal anecdotes, practical insights, and inspiring messages on topics that everyone can easily relate to in our daily lives, Think For Yourself aims to be a passionate and provocative manifesto for the self-determined individual, who forges a unique path in life.
"The individual life always matters" says Charles. "What we say and do truly does affect those around us. If you have something inspiring to say, then say it. If you disagree with something then speak up. Be heard. Take charge of your life and your destiny. Think For Yourself".
Think For Yourself - The Importance of Maintaining Individuality and Freedom of Thought
Available for sale online at Amazon.com, Barnes and Noble.com and other channels.
On AMAZON.com ….. keyword …..Think Importance
About the Author: Professional construction manager David Charles has been involved with public school construction management and has been active in the construction industry for over 30 years. His writings include Web-based reporting, project progress documentation, and classic business correspondence on all aspects of the public school construction process.
Media contact: David Charles
Review copies and interviews available
Book Review Links: http://www.notingbooks.com and
http://www.dcbookstfy.tumblr.com
E-store Link: https://www.createspace.com/3396981
###