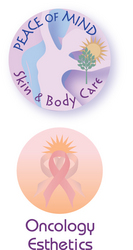 "Through the power of esthetic touch, I am dedicated to providing a soothing escape for individuals living with the effects of cancer. I can directly support the psychological and physical care so necessary for a client living with cancer." — Wendei Spale
Studio City, CA (PRWEB) March 18, 2010
Studio City-based esthetician Wendei Spale completes certification in Oncology Esthetics, expanding her practice to provide customized skin care for people living with cancer. Her certification, earned through Clinical Oncology Esthetics Training facilitated by Touch For Cancer, prepares professional estheticians to provide safe, personalized spa treatments to people with health-challenged skin.
Through Clinical Oncology Esthetics (COE), Ms. Spale, already an advanced esthetics educator herself, underwent extensive training in how cancer and therapy treatments affect the body at the dermal and lymphatic level. The program explored the side effects of cancer therapies, how those are compounded by various medications, and the importance of proper sanitation to support weakened immune systems. Certification also trained Ms. Spale how to perform gentle, yet effective protocols using compatible skin care ingredients.
"Beyond keeping my practice on the leading-edge, with all-natural, non-toxic wellness products and treatments, this certification will allow me to safely serve a new, very deserving, group of individuals with health challenged skin," Ms. Spale, said. "Through the power of esthetic touch, I am dedicated to providing a soothing escape for individuals living with the effects of cancer. By safely and effectively working with the largest organ, the skin, I can directly support the psychological and physical care so necessary for a client living with cancer."
Ms. Spale will offer specialized Oncology Esthetics treatments beginning in March, 2010, at her studio, Peace of Mind Skin & Body Care, located at 12522 Moorpark St., Ste. 108 in Studio City, CA.
About Peace of Mind's Oncology Esthetic Treatments
Wendei Spale provides oncology patients with the comfort and relief that has not previously been available to them for managing the side effects of cancer treatment and therapies, such as dryness, loss of elasticity, rashes and more. Massage needs to be individually adjusted depending on node removal and types of treatment underway. Spa services have been shown to increase production of endorphins, which in turn reduce stress levels and aid in pain management. With her specialized training and certification, Ms. Spale can provide for these needs in her spa setting.
For more information, visit peaceofmindskincare.com
###