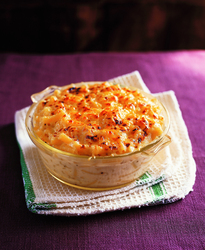 Macaroni and cheese must be the ultimate cure-all for adults and children alike.
San Francisco, CA (PRWEB) March 8, 2010
Just in time for St. Patrick's Day, Kerrygold is offering, free of charge, a downloadable version of Favorite Food at Home by Rachel Allen. The vivacious food writer, cooking teacher and mother of three is one of the hottest TV chefs in Ireland and the U.K.
Beginning March 10, Kerrygold will give away 10,000 downloads of this colorful, 20-recipe cookbook on a first-come, first-served basis. Just go to http://www.kerrygold.com/usa and click on the "eBook Giveaway" button. The redemption code is KGLD-0319-2010-RACB. (Due to legal restrictions, the offer is not available in New York State.)
The recipes for the ebook were chosen specially by Kerrygold for their simplicity and delicious flavors. They reflect Allen's cooking style, favoring home-grown ingredients – fish from local waters, farm-fresh vegetables and Irish butter made with milk from cooperatives of small family farmers.
In Ireland, cows roam free in fresh air and graze in green pastures. From this natural diet comes milk so rich in beta-carotene, it turns butter and cheeses a natural gold. Irish butter and cheeses are widely available in the United States under the Kerrygold label.
Here's a sampling from Allen's ebook to give inspiration for St. Patrick's Day festivities and throughout the year. Allen recommends Irish dairy products for best results. As an option to Kerrygold Aged or Reserve Cheddar in the recipe below, try Dubliner, which has a natural hint of sweetness, elements of a mature Cheddar and the bite of an aged Parmesan.
Macaroni and Cheese
Serves 6-8
Macaroni and cheese must be the ultimate cure-all for adults and children alike. You can also add small pieces of cooked ham or bacon to the sauce. Macaroni and cheese can be made in advance and then reheated when you are ready to serve.
6 tbsp butter
1 onion, peeled and chopped
¾ c (3 oz) all-purpose flour
3 ¾ c boiling milk
1–2 tsp Dijon mustard
8 oz cheese (Cheddar, or even better, half Cheddar and half Gruyère), grated
Salt and freshly ground black pepper
11 oz elbow macaroni
Melt the butter in a saucepan, add the chopped onion and cook gently until soft. Stir in the flour and cook for a minute, then gradually add the milk, whisking all the time, and the mustard. Whisk in three-quarters of the cheese and allow to melt into the sauce, then season to taste with salt and pepper.
Cook the pasta in a large pot of boiling water with a teaspoon of salt, until just soft. Drain, then toss into the cheese sauce and transfer to a gratin dish about 10 inches square. Sprinkle with the remaining cheese and pop under a broiler for a few minutes to brown the cheese on top, or if you wish, put this aside for later. To reheat, put the dish in an oven preheated to 400°F (200°C) for about 25 minutes, or until golden and bubbling.
Favorite Food at Home: Delicious Comfort Food from Ireland's Most Famous Chef, by Rachel Allen, is available from William Morrow—an Imprint of HarperCollinsPublishers.
# # #