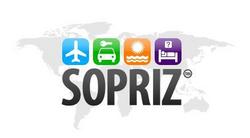 Make Up Your Trip!
Denver, CO (PRWEB) March 7, 2010
Cash reward programs are among the most popular incentives for customers to boost both their confidence and purchasing power. The travel industry is currently in need of and looking for ways in which to lower the operating costs and transfer the savings to online customers, who are searching for economical ways to travel.
SOPRIZ.com is excited to announce their launch of a unique, ongoing cash reward program which will pay $500 cash to every 200th customer who is booking airfare, hotel or car rentals from the SOPRIZ.com website. Customers will have cash deposited to their credit card within 3 to 5 business days following the transaction. As cash, this reward can be used for any purpose, and the company is hopeful that travelers will use this cash for their travel needs.
For the best travel deals, cheap airline tickets, discounted hotels and car rentals, we invite you to visit http://www.SOPRIZ.com.
For advertising opportunities on SOPRIZ.com please contact sales(at)soprisgmh(dot)com
# # #