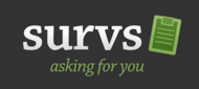 "We are very excited to have Survs in the Google Apps Marketplace." Scott McMullan, Google Apps Partner Lead for Google Enterprise
(PRWEB) March 9, 2010
Enough Pepper today announced it has added Survs to the Google Apps Marketplace™ , Google's recently launched online storefront for Google Apps™ products and services. Survs is a collaborative tool, acclaimed by users and media, that enables the creation, distribution and analysis of online surveys.
"Survs strives to provide users with an easy-to-use and feature-rich application. Our integration with Google Apps achieves this goal by giving our users the ability to login with their Google Apps Account and export survey results to Google Docs," says Gustavo Pimenta, CEO of Enough Pepper.
Survs allows users to:

Create surveys in an easy-to-use interface with the ability to choose from various questions types, customizable themes and powerful options
Collect responses in multiple ways - by email, web link or in their own web site
Analyze survey responses in real time, use powerful data filters and export results in different formats
Share survey results, templates, themes and languages
Collaborate with colleagues and friends in multi-user accounts
"We are very excited to have Survs in the Google Apps Marketplace," adds Scott McMullan, Google Apps Partner Lead for Google Enterprise. "Through the Google Apps Marketplace, software vendors like Enough Pepper are helping us build a rich ecosystem of integrated apps that work seamlessly with Google Apps, allowing IT administrators to leverage the benefits of cloud computing and extend Google Apps to meet more of their business needs. We are happy to offer Survs to the millions of Google Apps users who have embraced the cloud."
The Google Apps Marketplace makes it easy for more than 2 million Google Apps customers to discover, purchase and deploy integrated business applications and related professional services. By integrating with user account and application data stored in Google Apps, these cloud applications provide a simpler user experience, increase business efficiency, and reduce administrative overhead. To learn more, visit google.com/appsmarketplace.
About Enough Pepper
Enough Pepper is a (proudly) small company located in the engaging city of Lisbon, Portugal. Our team is composed of passionate and experienced people who like to work with a smile on their faces. For more information please visit http://www.enoughpepper.com.
Google, Google Apps Marketplace, Google Apps, Gmail, Google Talk, Google Calendar, Google Docs, Google Sites, and Google Video are trademarks of Google Inc.
###