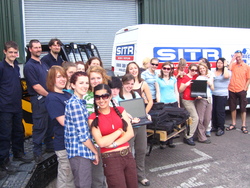 "When disposing of redundant ICT equipment it is important to ensure all data is deleted"
(PRWeb UK) March 10, 2010
Secure IT Reports that NHS computers have been found dumped in Ghana with children woking under terrible conditions melting down metals over open fires. Any information that is still stored on such computers can be used for all sorts of terrible things: extortion, blackmail, breaking into bank accounts.
Under the Data Protection Act 1998, public sector organisations have an obligation to ensure that no information held gets out into the public domain. When disposing of redundant ICT equipment it is important to ensure all records will be deleted. this is particularly important when hard drives hold personal and financial information.
Software licenses may forbid the transfer of the license to a new owner so any unauthorised item of software should be removed from the item prior to transfer of ownership. This include activation codes often attached to the side of computers in the form of stickers.
Disposal of computers and the environmental considerations associated with it, have become very important factors in UK and European legislative thinking. Best value practice and the European Union Waste Electrical and Electronic Equipment (WEEE) directive; insist on both individuals and organisations acknowledging their environmental responsibilities.
Businesses and goverment bodies are strongly recommended to only dispose of IT equipment via an external agency specifically authorised and registered to dispose of such waste. The agency should issue an 'end of life' certificate for each item disposed of. This would detail how an item has been processed during disposal and is a legally binding document from the agency that guarantee's the destruction of any data stored on hard drives found in PC's.
To summarise, any company that is contracted to dispose of redundant IT equipment should -

Be licenced by the environment agency as a WEEE treatment facility.
Recycle all electronic waste following the Best Available Treatment - Recovery and Recycling Techniques (BATRRT) and treatment of Waste Electrical and Electronic Equipment (WEEE).
Guarantee the destruction of all sensitive data.
Issue certificates of destruction, waste transfer notes and hazardous waste transfer notes.
Provide an audit trail for all items processed from collection through to disposal.
It is is in the interests of all businesses and government bodies to dispose of this form of waste in a compliant and environmentally friendly way.
Secure IT Recycling Ltd are UK specialists for computer disposal, computer recycling, pc recycling, printer recycling, data destruction, it asset management and hold all the permits and licences required by law to recycle IT equipment. They have recently been awarded the Business and Industry Magazines Company of the Month and support the World Land Trust and donate a percentage of their profits to this organisation for the purchase andf protection of threatened habitats.
For more information on any of the issues raised above please call 01477 536510, or visit the website at http://www.sitr.com.
###