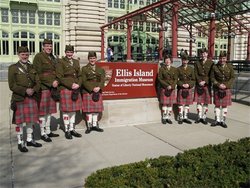 Tartan Day on Ellis Island "stands out as a beacon of what Tartan Day is all about," journalist Roddy Martine.
(PRWEB) March 9, 2010
Tartan Week in New York opens with a family-friendly Scottish festival featuring a new exhibition in the Peopling of America Gallery which runs from Friday, April 2 through Sunday, April 4. On Saturday, April 3, Ellis Island will come alive with the sights and sounds of pipers, drummers, singers and dancers who represent Scotland's "portable culture" that were brought to this country by Scottish immigrants. Saturday's performances will run from 10AM to 4PM.
Saturday performers include the Rampant Lion Pipe Band, the New York Celtic Dancers, and John Grimaldi - the Kilted Juggler.
The ninth annual observance of Tartan Day on Ellis Island event will open NY Tartan Week – a nine-day festival of all things Scottish, including Sir Sean Connery's Dressed to Kilt Fashion show, Whisky Live! and the NY Tartan Day Parade.
Ellis Island is a fitting place to observe Tartan Day. The island and its historic buildings represent America's "Golden Door." From 1892 to 1954, more than 12 million immigrants passed through Ellis Island. Although many Scots arrived during the colonial period of our history – helping to build the new nation - an additional half-million Scots came through Ellis Island. It has been estimated that 40% of Americans today can trace at least one ancestor's entry into the United States through Ellis Island.
For further information on the Ellis Island program, visit http://www.tartandayonellisisland.com. There is no admission charge to the Tartan Day events or the immigration museum. Passenger ferries run from Battery Park in New York City and Liberty State Park in Jersey City, New Jersey. For complete ferry schedules to Ellis Island, visit: http://www.statuecruises.com.
About Tartan Day on Ellis Island
Tartan Day on Ellis Island is one of the principal Scottish heritage events in the United States. Describing the program, noted Scottish journalist and author Roddy Martine reported that of all the Tartan Day events held in the United States, the Ellis Island observance has, "stood out as a beacon of what USA Tartan Day is all about: the emigrant ancestors of ordinary Americans who over three centuries crossed the Atlantic Ocean to create the world's greatest democracy."
The Clan Currie Society began its successful collaboration with the Ellis Island Immigration Museum in 2002 in the coordination and sponsorship of their first Tartan Day celebration. Clan Currie and the National Museums of Scotland joined forces to host the traveling exhibit, "Home and Away: Highland Departures and Returns."
###