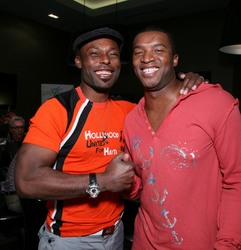 HealthyTrim.com was honored to be part in such a festive occasion which raised close to $20,000 for those still in need in Haiti.
Los Angeles, CA (PRWEB) March 8, 2010
After GBK's annual Oscar Gift Lounge, which was a huge success, honoring the nominees and presenters, GBK threw a celebrity poker tournament to Benefit those still in need in Haiti. Gavin Keilly, CEO of GBK, Dan Fleishman CEO of Victory Poker, Actor Jimmy Jean-Louis invited their friends to come out to play. Shaun Toub, Shannon Elizabeth, Gilles Marini, Sal Masakela from E! Roger Cross, Playmate of the year Sara Underwood, Sean Michael Scott, Menace from Korn, pro poker players that have been signed to with VictoryPoker.net, and a few others to come out play for two specific Charities doing Great work in Haiti.
The Tournament would have never taken place it was not for the Lead Sponsor VictoryPoker.net. VictoryPoker.net brought in their tables and anteed up $10,000 to the winner to give their choice of charities present at the tournament. GBK added $5,000 to the Second place winner to do the same. As HealthyTrim.com participated in GBK's Oscar Lounge benefitting Haiti and they too wanted to make a difference even more by adding another $4,000 to the third place winner's choice of charity. CEO, Matthew Dwyer said, "HealthyTrim.com was honored to be part in such a festive occasion which raised close to $20,000 for those still in need in Haiti."
Everyone certainly had a lot of fun, but it did get competitive in the end. Coming in fourth place was Gilles Marini. He said, "I play in a lot of tournaments and I always end up one place before the prizes" Coming in third place was Menace from Korn, also known as Dennis Shinn. He was proud to give his donation to International Help for Orphans in Haiti. He was conflicted at first, but his deciding factor, was thinking about the kids that had absolutely nothing, and even more so, no parents. After putting up a good fight; Coming in Second Place was one of the nicest women in the poker world, Actress, humanitarian, Shannon Elizabeth. Actor Roger Cross was on fire the entire night, starting out the evening with pocket Aces, twice. Finally in the end, after Shannon won 3 hands in row, Roger put Shannon all in with straight draw. Shannon with not many chips left, second best pair, and bit of hesitation called. Sure enough on the River Roger hit his straight and won the Tournament. Both Roger and Shannon gave their winnings to Hollywood Unites for Haiti.
Benefiting charities included: Help for Orphans International, a non-profit organization which provides superior education facilities and materials for orphans around the world, but for this event funds went specifically to Haiti. Their overall purpose is to elevate the well-being of orphans and empower them to succeed in whatever endeavor they choose. They provide an exceptional learning environment, along with educational tools that bring out the natural ability in students, as well as give a firm grounding in the basics necessary for self-sufficiency. They are helping orphaned children help themselves. HUFH, Hollywood Unites for Haiti, a non-profit organization founded by actor Jimmy Jean-Louis (who plays the "Haitian" on NBC's hit series "Heroes"). HUFH is leading a public awareness campaign and in conjunction with this organization, Jimmy Jean-Louis is working on a National campaign with the Pan American Development Foundation to raise money and provide aid for those who need relief from the devastation in Haiti. Jimmy Jean-Louis recently discovered that his parents in the Haitian capital are safe, but their home was destroyed by the earthquake and other family members died in the collapse. He returns to Haiti many weekends to reunite with his parents and offer assistants to his people in his homeland.
GBK, formerly GBK Productions, is a luxury lifestyle gifting and special events company, specializing in entertainment marketing integration. Formed in 2000 by Gavin B Keilly, the company's Founder and CEO, GBK consists of five divisions: GBK Celebrity Gifting Lounges, GBK Events, GBK Weddings, GBK Charitable Consulting and GBK Marketing/PR. Widely known in the entertainment industry for bringing that little extra something into the Gifting Lounge environment, GBK offers its clients a full range of marketing services. For more information on Gavin B. Keilly (CEO), Carla Domen (VP) or GBK, please go to gbkproductions.com.
For More Information on Help for Orphans International, go to helpfororphans.org
For More Information on HUFG, Hollywood Unites for Haiti, go to hufh.org
###