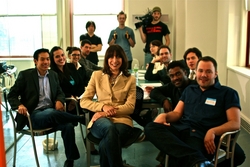 This part is a fun departure from her recent roles on Easy to Assemble and Sparhusen and I can't wait for the audience to see it
New York, N.Y (PRWEB) March 9, 2010
Emmy -nominated actress, writer, and producer Illeana Douglas (To Die For, Six Feet Under), creator and star of two of the Web's most-successful original series: The IKEA-sponsored Web comedy Easy to Assemble and its musical "mockumentary" spin-off Sparhusen; will guest star in two episodes of The Temp Life, CJP Digital Media's Streamy-nominated comedic Web series sponsored by SFN Group (formerly Spherion Corporation), about the trials and tribulations of hourly temp workers.
In episodes scheduled for April 5th and April 26th, Douglas will play "Eve Randall," a steely CEO who crosses paths with scheming former temp agency boss "Nick 'Trouble' Chiapetta" (played by Wilson Cleveland); uptight Head of Human Acquisitions, "Alina Deloris" (played by Rachel Risen); and IT temp trainee "Nancy Roder," the fan-favorite character created/played earlier this season by actress, writer, and producer Taryn Southern, best-known to Web TV audiences for her roles in Private High Musical, Sony Crackle's Woke Up Dead and TheWB.com's Sorority Forever.
Douglas recently wrapped the second season of Easy to Assemble including last month's special three-part Easy to Assemble: Flying Solo miniseries. Easy to Assemble and Sparhusen have received a combined 8.2 million organic views since October and seven nominations in the upcoming Streamy Awards.
"We're thrilled that Illeana agreed to be a part of the show," said Temp Life creator/star Wilson Cleveland, SVP and director of CJP Digital Media. "This part is a fun departure from her recent roles on Easy to Assemble and Sparhusen and I can't wait for the audience to see it."
SFN Group has sponsored The Temp Life since 2006 when longtime agency partner CJP presented the concept of creating an original online comedy series as an alternative vehicle aimed at reaching a more message-averse and Web-savvy audience. Since its November premiere, the first 12 episodes of The Temp Life's fourth season have garnered over 2 million views across Web, video on-demand and mobile platforms. In addition, a dedicated Temp Life iPhone application released earlier this month, now allows users to watch episodes and monitor real-time Twitter feeds of available employment opportunities across SFN Group's family of specialized professional and general staffing businesses.
"We have had incredibly talented people involved with The Temp Life this year, and we are honored to have Illeana Douglas helping us end this season on the highest of notes," said SFN Group Senior Social Media Strategist and Temp Life Producer, Melissa Waldon.
The Temp Life can be seen online at TheTempLife.tv, YouTube, My Damn Channel, Facebook, Effinfunny.com and Daily Motion, as well as on iTunes, Roku, Boxee and Sony Bravia Internet Video Link via Blip.tv. The current season is also available on-demand in over 2 million U.S. hotel rooms via LodgeNet and as a dedicated iPhone application. For more information about The Temp Life, visit: http://www.thetemplife.tv/
About CJP Digital Media
CJP Digital Media, unit of NY-based marketing communications firm, CJP Communications, specializes in creating, distributing and promoting brand-centric entertainment, content and marketing messages via digital, social, mobile and traditional media channels for brands and media companies including IKEA, BMW, GE, NBC/Universal, Spherion, MINI, Generate and My Damn Channel. CJP created the long-running Streamy-nominated Web comedy: The Temp Life in 2006 for SFN Group (formerly Spherion Corporation) and most-recently worked with IKEA and creator/writer Illeana Douglas to market and distribute the branded Web comedy Easy to Assemble, which Advertising Age recently proclaimed "the most watched branded Web show ever."
For more information, visit http://cjpdigital.com.
About SFN Group
SFN Group is a strategic workforce solutions company that provides professional services and general staffing to help businesses more effectively source, deploy and manage people and the work they do. As an industry pioneer, SFN Group has sourced, screened and placed millions of individuals in temporary, temp-to-hire and full-time jobs for more than 60 years.
With nearly 600 locations in the United States and Canada, SFN delivers strategic workforce solutions that improve business performance. From outsourcing to technology to professional services to staffing, SFN delivers the best combination of people, performance and service to improve the way work gets done. It provides its services to approximately 8,000 customers, from Fortune 500 companies to a wide range of small and mid-size organizations. The company employs more than 160,000 people annually through its network and is one of North America's largest employers. SFN provides its solutions through a family of specialized businesses: Technisource, Tatum, The Mergis Group, Todays Office Professionals, SourceRight Solutions and Spherion Staffing Services.
To learn more, visit http://www.sfngroup.com.
Media Contact
Kate Dillon
CJP Communications
203.254.1300 ext. 115
###