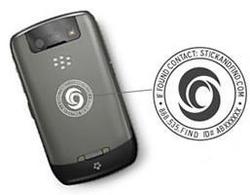 The study realized a 75% success rate, with three quarters of the cell phones that were intentionally "lost" in public places for the study being returned.
San Diego, CA (PRWEB) March 29, 2010
An independent trial has been conducted to determine whether people who find lost or misplaced items are likely to return them if there was a convenient way to locate or contact the owner. The study realized a 75% success rate, with three quarters of the cell phones that were intentionally "lost" in public places for the study being returned. This was directly related to the fact that the lost phones had been affixed with special identifiable labels from StickandFind to let people know how to return them to their owners.
Most people have no contact information on their often expensive items. That means anyone who finds such an item has no way of knowing where or how to return it or to even let the owner know that their property has been found. All too often, recovered goods are turned in at a counter in public places, and end up sitting unclaimed.
In a separate study supported by Dell, it was determined that more than nine thousand cell phones and one million laptops were turned into Southwest Airlines every year. Of that number, 65% never left the company's Lost and Found department. Airline personnel were unable to contact the owners since there was no identifying information on the lost items.
The reason the StickandFind trial was so successful in recovering goods was because of the special labels applied to the phones. Each label contained a unique eight digit code, along with the stickandfind.com website, so that for any item found, returning it would be quick and easy for the 'finder'.
Thanks to the successful trial, professional StickandFind labels are being made available to the public. The specially coded labels can be ordered through the stickandfind.com website for multiple products and are easy to adhere to the items, without difficulty.
Once a lost item with a StickandFind label is recovered, the 'finder' simply enters the information onto the website or calls the 24 hour bilingual recovery center. Stick and Find notifies the item owner immediately and arrangements are made for the return to take place.
With privacy being such an important issue, StickandFind also takes steps to ensure user confidentiality. Customers can specify how they wish to be contacted once their items are found. Users can remain as anonymous as they wish, and make StickandFind act as intermediary should they choose. No confidential or identifying information is released to the 'finder' unless the owner chooses that option. This feature is especially important for women.
The labels are permanent and cost effective, especially when compared to the price of replacing items, such as laptops, mobile phones, iPods, cameras or other equipment. The design is tasteful and does not to detract from the appearance of the item. Labels can be ordered with black or white print on a transparent background.
Individual labels are $9.95, with multi-pack discounts available for businesses and large orders. There are no other costs involved to take advantage of the Stick and Find service and there are no annual or recurring fees.
Once the market becomes more aware of Stick and Find, the percentage of lost, abandoned or unclaimed items should drastically reduce. As the trial results demonstrate, a large portion of the population is genuinely honest and happy to return misplaced items that are found, so long as they are provided with a convenient way to do so. For the price, StickandFind has made this option extremely attractive and affordable for consumers.
CONTACT
Ryan Cramer
Media Contact for StickAndFind.com
info(at)stickandfind(dot)com
###