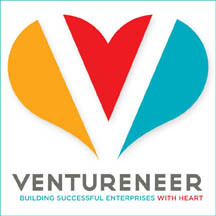 "A strategic alliance can reduce costs, make better use of resources, and increase effectiveness in nonprofit organizations. But nonprofit leaders must understand how to position their organizations to make the right alliance." Geri Stengel, President
New York, NY (Vocus) March 8, 2010
New York, NY March 8, 2010 -- Nonprofits function today in a radically changed world. In the face of such change, nonprofit leaders must consider creative strategies to ensure long-term survival.
Strategic alliances can help nonprofit leaders strengthen their programs while maximizing use of resources, both financial and human. Strategic alliances include mergers, collaborations, and shared services.
To be successful, the nonprofit must be ready for the alliance, choose the right kind of alliance, and find the right partner.
Ventureneer is offering a free webinar The Power of Partnerships: Strategic Alliances for Sustainable Nonprofits that will set nonprofits on the path to accomplishing all three.
The free webinar will be held from noon to 1 p.m. EST on Tuesday, March 23rd.
"A strategic alliance can reduce costs, make better use of resources, and increase effectiveness in nonprofit organizations," says Geri Stengel, founder of Ventureneer. "But nonprofit leaders must understand how to position their organizations to make the right alliance. This webinar will help them do that."
The Power of Partnerships: Strategic Alliances for Sustainable Nonprofits will give nonprofit leaders the information they must consider before embarking on a partnership. It will help start the conversation at a nonprofit or its funder that signals a new direction and long-term sustainability.
A dynamite team from CommonBond, an organization that helps nonprofits work together, will teach the webinar. The CommonBond partners -- Barbara Heisler Williams, Tonia Papke, Audrey Winkler, and Robert O. Zdenek -- all have years of experience helping nonprofits with strategic planning, board development, and negotiating business relationships.
Participants in the webinar will get the benefit of that experience and the opportunity to join a network of nonprofit professionals working to build strong futures for their organizations.
Decision-makers at nonprofit organizations – board members, managers, executive directors -- who are involved in strategic planning will benefit from this webinar. Funders may be particularly interested because the free webinar could spark ideas for new ways to help multiple grantees.
To register, visit Ventureneer.
About Geri Stengel
Geri is founder of Ventureneer, an online education and peer support service. An adjunct professor at The New School, she honed her online experience at companies like Dow Jones and Physicians' Online. Geri co-founded the Women's Leadership Exchange and is president of Stengel Solutions, a consulting service for social-impact organizations.
About Ventureneer
Ventureneer.com provides nonprofit and small business advice as well as entrepreneurial and nonprofit training through a new approach to learning: a blend of traditional, formal instruction with informal, peer learning that takes advantage of Web 2.0 technology to capture and share knowledge. Ventureneer's customized blogs, virtual classes, peer-to-peer learning, coaching, web events and articles help entrepreneurs make faster, better decisions for their enterprises.
Contact:
Geri Stengel
212-362-3088
geri(at)ventureneer(dot)com
###