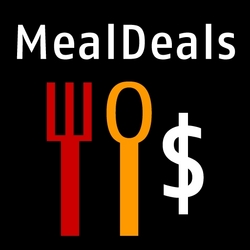 "MealDeals helps us get more exposure and extends our marketing efforts to reach many more customers." - Mr. Elio D' Urzo, Owner/Partner at Sapore Italiano Ristorante in California
Redwood City, CA (PRWEB) March 8, 2010
Cellism LLC, announces the general availability of MealDeals, the industry's first food-and-beverage-focused mobile advertising application on the iPhone, Blackberry and Android smartphone platforms.
MealDeals is the only smartphone application focusing exclusively on food and beverage establishments, bringing dynamic hyper-local marketing capabilities, and targeting millions of smartphone users who have high incomes and spend significant amount of time with their devices.
Users can download the application free on their mobile devices and find coupons for restaurants at their finger tips - whenever they need them and wherever they are. A paradigm change from the traditional direct mail or web coupon industry, users will also have their coupons where and when they need them – without needing to clip and stash multiple coupons in their wallets. In the meantime, restaurants can also now run promotional campaigns on-the-fly and receive data on customer demographics.
An exclusive group of restaurants in California, Chicago and New York have been piloting the platform the past three months to promote new menu items and specials: Azteca De Olo (http://www.aztecadeorogrill.com), El Categtazo, El Toro Taqueria (http://eltorosf.com), Gabriel's Fountain Restaurant (http://www.gabrielsfountain.com/gabriels_story.html), Gau Poang Chinese Retaurant, Katsuno Japanese Restaurant (http://www.katsunorestaurant.com), La Chene http://lechene.com), La Boheme Restaurant and Patisserie (http://labohemerestaurant.com), Sapore Italiano Ristorante(http://saporeitaliano.org), Pancho Villa Taqueria (http://panchovillasf.com) and Taco Bravo.
Restaurants have reported an increase in the number of customers with these mobile coupons. Mr. Elio D' Urzo, Owner/Partner at Sapore Italiano Ristorante in California remarked, "MealDeals helps us get more exposure and extends our marketing efforts to reach many more customers. For example, some European travelers were on their way to the airport and found our Italian restaurant through MealDeals and the inbuilt GPS feature on their iPhone. They loved the capability of researching the restaurant and viewing our menu on MealDeals before they arrived, because it helped them know what to expect and to save time."
Ms. Stella Filmus, owner of La Boheme Restaurant and Patisserie in California, commented, "I like the MealDeals mobile advertising technology, because it really helps support my internet marketing efforts. I loved the fact that a "live" person came to my business and helped me with everything. The Ad was instant and so were the results!"
The system currently carries over 7000 web and mobile coupons. Over 30 restaurants in Denver are set to begin their mobile advertising campaigns on the platform soon.
MealDeals mobile advertising is available at the standard package of US$99 per month per campaign, which is just a fraction of typical direct mail advertising costs. Cellism will be demonstrating the MealDeals mobile advertising platform at the International Restaurant Show during the International Hospitality Week in Las Vegas (8-10 March 2010), and offering introductory show specials.
###