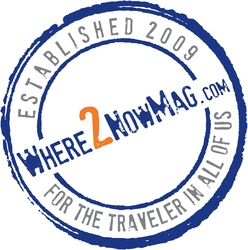 We've relaunched our site to be organic and dynamic in nature.
Marietta, GA (PRWEB) March 9, 2010
Where2NowMag.com, the online destination for the most current travel news, features and weekly travel deals, relaunches today with a distinctive look and feel, improved navigation and extensive content contributed by experienced travel writers and leisure travelers from around the world.
"With the new Where2NowMag.com site, we've created a travel portal for the traveler in all of us," said Stacey Dougherty, publisher and founder. "Our Where2NowMag.com passport stamp makes it immediately evident that leisure travelers have found the perfect source for their travel news and planning."
The Atlanta-based Where2NowMag.com launched in March 2009 as a news and resource site for leisure travelers. Building upon contributions from an experienced stable of professional travel writers, the site provides consumers with vacation ideas ranging from camping to yoga retreats to trailblazing, trip planning details and the latest in travel deals.
The new site provides easier and more intuitive navigation through the top travel news headlines from leading national newspapers, columns about vacation ideas and consumer issues, photo galleries from travel sites around the world and archived articles. Where2NowMag.com introduces a variety of new columns about wellness and travel, and continues its popular "Gear, Guides and Technology" column, which reviews products and gear available for the casual traveler.
For most articles and standing features, Where2NowMag.com has gathered talented travel writers and photographers from major U.S. publications with experiences that have taken them around the world. In addition, the site encourages contributions - both on the site and through Twitter and Facebook - from its readers and other travelers to reflect upon great new vacation ideas, equipment and other travel interests.
Dougherty said plans for the near future include online video, more strategic partnerships and more extensive coverage around the world.
"We've relaunched our site to be organic and dynamic in nature," she said. "As with books, music and art, everyone has their own idea of what a great vacation should be. Just as travel should offer new and different experiences, our site will constantly evolve to reflect the needs of our readers and contributors."
CONTACT:
Stacey Dougherty Founder/Publisher 404.954.0240
Follow us: twitter.com/w2nmag http://www.facebook.com/#!/Where2Now
###