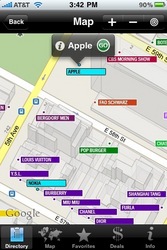 With such a vast array of options in New York City, deciding what to do and where to go is an experience in itself and mobile application developer, AppFury, is looking to make that experience efficient if not pleasurable with its latest iPhone app.
New York, NY (PRWEB) March 30, 2010
Start spreading the news, NY natives, transplants and visitors agree, there's never a bad time to experience the city that never sleeps. Few cities offer the art, culture, shopping and dining experiences available in New York. With such a vast array of options, deciding what to do and where to go is an experience in itself and mobile application developer AppFury is looking to make that experience efficient if not pleasurable with its latest iPhone application.
Following up on the success of their SOHOinmypocket guide to SOHO, AppFury is now set to release MIDTOWNinmypocket for the iPhone. The application (iTunes Link) features a categorized directory of the shops, restaurants, museums and other points of interest in Midtown Manhattan, a GPS enabled map which displays destinations based on users individual or categorical directory selection, and directs the user, turn by turn, to their desired destination.
MIDTOWNinmypocket directory provides information and directions to and around numerous areas of interest in Manhattan including Times Square, Madison Ave, 5th Ave, the Theatre District, Rockefeller Center, and Grand Central Station.
Shopping in Midtown, particularly along Madison and Fifth Avenue, affords access to the latest in high end fashion. Retail locations for designers including Louis Vuitton, Chanel and Hermes line Madison Ave., ensuring that selection is limited only by budget. Saks Fifth Avenue, located on its namesake, provides slightly cheaper options from many Madison Ave. designers and MIDTOWNinmypocket makes navigating between retail boutiques and department stores as simple as choosing "Fashion", or "Department Stores" within the application's directory, and selecting on the map where to be directed first.
After a day of activities, Midtown offers food and libations for any mood or budget. Those looking for a unique yet economical value can satisfy their hunger at places like ESPN Zone or Hard Rock Cafe in Time Square.
For a more formal evening, drinks at The Stone Rose or Cipriani and dinner at Le Cirque or Del Frisco's will exceed the expectations of the most discriminating pallet. If hunger is the only driving force in meal venue selection, using MIDTOWNinmypocket's "Near Me" feature will minimize time before food is served as selecting "Near Me" within a search displays destinations based solely on geographical distance from the users location.
Following a satisfying meal, the theater district in Midtown offers a broad range of dramatic entertainment. Comedy from headliners is available daily at places like Caroline's and Gotham comedy club. Dramatic performance on a large scale can be experienced at a Broadway show like Chicago or The Lion King. Off Broadway shows offer unique creativity on a smaller scale though their fresh quality and innovation make scale a moot point.
Finding a comedy club or theater, learning show times and purchasing tickets are all possible through the use of MIDTOWNinmypocket's directory and navigation features, seamlessly concluding a full and fulfilling Midtown experience.
About AppFury
AppFury is a mobile marketing company that develops, promotes, customizes and services mobile applications. Specializing in location based service & advertising adaptation by traditional retailers, AppFury caters to practical consumers and businesses that demand actionable results. Their applications have been selected by iTunes as "New and Noteworthy" and have been ranked in the top 5 paid navigation applications available.
If you would like more information about AppFury products or services, or to schedule an interview, please call Eric Hinman at 315-464-0067 or send an e-mail to info(at)appfury(dot)com.
###