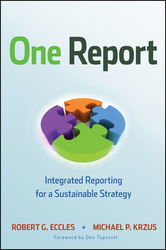 "An excessive focus on short-term financial performance must be replaced by a longer-term view that a sustainable company depends upon its contribution to a sustainable society," adds Michael Krzus
Hoboken, NJ (PRWEB) March 8, 2010
John Wiley & Sons, Inc. - In the post-financial collapse business world, companies are being held to a higher standard of transparency than ever before — not only about financial performance, but also about nonfinancial performance regarding environmental, social and governance (ESG) issues. In short, for both internal and external stakeholders, transparency and corporate responsibility are the orders of the day, say Robert G. Eccles of Harvard Business School and Michael P. Krzus of Grant Thornton LLP, coauthors of the new book One Report: Integrated Reporting for a Sustainable Strategy (Wiley, 2010, ISBN: 978-0-470-58751-5, $39.95) Thanks to their integrated reporting approach, it is now much easier for companies to demonstrate their progress in these areas.
"Many companies today supplement their annual report with a voluntary 'Corporate Responsibility' or 'Sustainability' report," says Eccles. "To have a real impact, these separate documents need to be integrated, demonstrating that the company has a sustainable strategy based on a real commitment to corporate social responsibility and that it takes into account the needs of all stakeholders."
"An excessive focus on short-term financial performance must be replaced by a longer-term view that a sustainable company depends upon its contribution to a sustainable society," adds Krzus. "One essential mechanism for achieving that is a commitment to more integrated external reporting."
One Report: Integrated Reporting for a Sustainable Strategy is a guide to achieving that goal, providing insights on the "how" of integrated reporting (known as One Report) and making the case for its adoption worldwide. Integrated reporting communicates to shareholders and other stakeholders that the company takes a holistic view of their interests — a concept demonstrated even more clearly by the company's willingness to be a "listener," not just a "talker," through Internet dialogue it establishes with stakeholders. Finally, integrated reporting commits a company to a path of continuous improvement in external reporting.
Companies can reap real benefits from One Report:
•Greater clarity about relationships and commitments: A sustainable strategy with multi-stakeholder perspective demonstrates thoughtful, conscientious leadership.
•Better decisions: Developing greater clarity about — and basing decisions upon — the relationships between financial and nonfinancial information, drive sustainability into the business strategy and create value for the company, its shareholders, and all other stakeholders.
•Higher level of engagement with all stakeholders: Integrated reporting and engaging stakeholders through Internet communications challenges all participants to listen to and examine all perspectives.
•Lower reputational risk: Assessing reputation and reality across stakeholder groups helps the company identify areas that are at risk.
Reporting is the world's window to a company — and companies that are currently practicing One Report (including the Dutch lighting and health care company Philips, the Danish pharmaceutical company Novo Nordisk, the Brazilian cosmetics and fragrances maker Natura, and U.S.-based United Technologies Corporation) are beginning to see positive results.
About the Authors
Robert G. Eccles joined the faculty of the Harvard Business School in 1979 and received tenure in 1989, leaving in 1993 to work in the private sector. He rejoined the faculty in September 2007. In collaboration with PricewaterhouseCoopers, he has co-written two previous books on improving corporate reporting: The Value Reporting Revolution: Moving Beyond the Earnings Game and Building Public Trust: The Future of Corporate Reporting.
Michael P. Krzus is a public policy and external affairs partner with Grant Thornton LLP, the U.S. member firm of Grant Thornton International Ltd, one of the six global audit, tax and advisory organizations. Mr. Krzus is the firm's global expert on improving corporate reporting and has represented Grant Thornton in U.S. and international business reporting initiatives.
About the Book
One Report: Integrated Reporting for a Sustainable Strategy (Wiley, 2010, ISBN: 978-0-470-58751-5, $39.95) is available at bookstores nationwide, major online booksellers, or directly from the publisher by calling 800-225-5945. In Canada, call 800-567-4797.
Founded in 1807, John Wiley & Sons, Inc., has been a valued source of information and understanding for 200 years, helping people around the world meet their needs and fulfill their aspirations. Wiley's core business includes scientific, technical, and medical journals; encyclopedias, books, and online products and services; professional and consumer books and subscription services; and educational materials for undergraduate and graduate students and lifelong learners. Wiley's global headquarters are located in Hoboken, New Jersey, with operations in the U.S., Europe, Asia, Canada, and Australia.
The Company's Web site can be accessed at http://www.wiley.com. The Company is listed on the New York Stock Exchange under the symbols JWa and JWb.
About Grant Thornton LLP
The people in the independent firms of Grant Thornton International Ltd provide personalized attention and the highest quality service to public and private clients in more than 100 countries. Grant Thornton LLP is the U.S. member firm of Grant Thornton International Ltd, one of the six global audit, tax and advisory organizations. Grant Thornton International Ltd and its member firms are not a worldwide partnership, as each member firm is a separate and distinct legal entity. In the U.S., visit Grant Thornton LLP at http://www.GrantThornton.com.
###