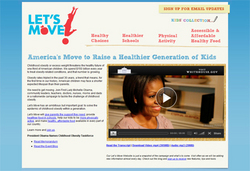 Woburn, MA (PRWEB) March 8, 2010
Percussion Software, provider of Web Content Management (WCM) software that helps organizations increase traffic, drive conversion, and improve social interaction, is proud to welcome LetsMove.gov to the growing family of websites powered by Percussion CM System. Let's Move is a nationwide campaign attempting to solve the childhood obesity epidemic within one generation, spearheaded by First Lady Michelle Obama.
In February, President Obama issued a memorandum establishing a task force on childhood obesity which was followed closely by the establishment of the Partnership For A Healthier America. The partnership is an independent, nonpartisan organization acting as a catalyst to mobilize broad-based support to solve the childhood obesity challenge. Let's Move was established to give parents the support they need, provide healthier foods in schools, encourage children to be more physically active, and increase the availability of nutritious, affordable foods.
LetsMove.gov – built in a matter of hours on Percussion CM System – promotes healthy lifestyles by bringing together community leaders, teachers, doctors, nurses, and moms and dads. The website employs interactive elements intended to engage and involve visitors:

A Let's Move Blog, featuring posts by Secretary of Health Kathleen Sibelius, Secretary of Agriculture Tom Vilsack, Secretary of Education Arne Duncan, US Surgeon General Dr. Regina Benjamin, and Cammie Croft, the White House's Deputy New Media Director
A video gallery of public service announcements, press clips, and messages
Social Links to Let's Move's Facebook Page and YouTube channel
A Kid's Collection of books, games, and posters related to healthy nutrition
"We're very pleased to support this campaign to improve children's health and we are delighted at the success of the launch," said Joe Wykes, President of Percussion. "That HHS was able to independently build this site quickly is a testament to the speed to market that organizations can achieve with CM System, particularly with critical efforts like Let's Move."
Other websites in the U.S. Department of Health & Human Services powered by Percussion include HHS.gov, Flu.gov, and Cancer.gov.
###