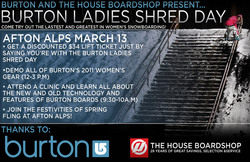 St. Paul, MN (PRWEB) March 8, 2010
Burton and The House have teamed up to put on Burton Ladies Shred Day that will be held March 13 at Afton Alps. Burton Ladies Shred Day will feature discounted tickets to participants, a clinic explaining Burtons 2011 gear and a demo of Burton's 2011 women's snowboard equipment.
In correlation with Burton, The House Boardshop is sponsoring the event. All participants will receive discounted lift tickets of $34. To receive the discounted tickets participants simply need to mention that they are with Burton Ladies Shred Day as they are buying their tickets. Both males and females of all ages are welcome to attend.
The clinic will start off Burton Ladies Shred Day beginning at 9:30 a.m. It will be held in the Alps Chalet upstairs in the back room of Paul's Pub. Mindy Guyton, Midwest Burton representative, will lead the clinic by explaining all of the new technologies Burton has added to their boards for 2011. Guyton will also explain specific features of each board and binding to help potentially interested buyers understand the equipment.
Following the clinic, Burton will demo its 2011 line. Any interested snowboarder will be able to take the gear out for a few test runs to get a good feel for how the board and bindings will handle. Demos can be an essential part of the purchasing process when shopping for new snowboard gear. Being able to ride the equipment before buying gives the rider a definite understanding of whether or not they like the feel of it.
The Burton Ladies Shred Day is being held at Afton Alps March 13, which also is Afton's Spring Fling. The Spring Fling is Afton's annual end-of-the-season event with many of their own events such as games, a water skip, races, music and much more!
There will be many activities at Afton Alps on March 13. Burton Ladies Shred Day offers the chance to ride a next year model board and a discounted lift ticket, so be sure to come out.
###