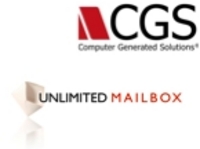 We are pleased with the opportunity to work with Moore County to provide professional and reliable email archive management
New York, NY (Vocus) March 11, 2010
Computer Generated Solutions Inc. (CGS) announces that the Moore County, North Carolina government is implementing its Unlimited Mailbox™ email archiving and e-discovery solution for its 560-user email system. The Unlimited Mailbox software solution will enable the county to proactively manage the increasing volume of electronic messaging data and efficiently retrieve information contained in email records to satisfy both internal and public information requests. The new system provides advanced tools to archive, search, retrieve, backup, and recover system wide email data.
"We are pleased with the opportunity to work with Moore County to provide professional and reliable email archive management," stated Michael Wilding, senior vice president of Unlimited Mailbox. "We commend them for recognizing the importance of email archiving and e-discovery. As reliance on email communication grows, so does the requirement for public organizations to produce email data in compliance with public record requests."
Unlimited Mailbox is an all-in-one solution that includes all the hardware and software needed to add the important new email data management capabilities to Moore County's existing Microsoft® Exchange mail server. The new system will also ingest the county's large volumes of existing email (PST format) for archival and management. Moore County employees can easily retrieve e-mails right to their desktop without the need for IT intervention. Archived mail can also be accessed from remote locations for more extensive search and e-discovery projects.
The new system does not require any software code, APIs, or DLLs to be installed on existing servers or end-user computers. This non-invasive approach greatly simplifies implementation and alleviates any potential conflict with existing server software warranties. The system is also compatible with virtually all messaging hardware and email formats, which enables Moore County to remain vendor-neutral as conditions or needs change.
About Moore County
Moore County, North Carolina is in the south central region of North Carolina and includes the towns of Aberdeen, Carthage (the county seat), Pine Bluff, Robbins, and Southern Pines. Moore County comprises more than 700 square miles or 451,500 acres with a population is in excess of 69,500 citizens. Moore County government maintains more than 25 departments in service to its population.
About CGS
For twenty-five years, CGS has enabled global enterprises, regional companies and government agencies to drive breakthrough performance through technology. With global delivery capabilities, expertise across leading platforms and deep experience in multiple industries, CGS has become the IT partner of choice for thousands of organizations worldwide. CGS delivers a wide array of proprietary and third-party business applications, technology and business services, outsourcing solutions and learning & communications platforms. Headquartered in New York City, CGS maintains a worldwide presence with 20 offices in North America, Europe and Asia. For more information please visit http://www.cgsinc.com.
For more information on the Unlimited Mailbox solution, please visit http://www.unlimitedmailbox.com.
Unlimited Mailbox™ is a trademark of Computer Generated Solutions, Inc.
Microsoft® is a registered trademark of Microsoft Corporation in the United States and/or other countries.
###