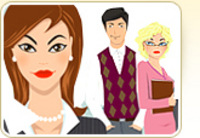 Miami, FL (PRWEB) March 9, 2010
Local Printing, geographically specific, printing giants, announced the official launch of their new, completely customized, localized print website http://www.MiamiBusinessCards. The colorful and interactive new site for Miami, adds an element of fun with its flash header and spinning product viewer while still providing a fast, easy and convenient business card printing experience.
MiamiBusinessCards.com does not offer Business Cards Free to entice clients to purchase product. They give fair and honest products at a great price suited for Miami and rest of Florida area. With their belief that business cards are the face and image of any company, they provide quality product with over 15,000 design options. The online, business card designer at Miami Business Cards, provides a step by step process that is easy to follow and makes business card designing fun. The wide variety of imagery and design properties will ensure that your business card is attractive and unique. Clients can even upload their own custom designs.
"It was fun making my own cards. I loved it! So many designs to choose from. All of the tools that you need to make your designs are available to you and very easy to use! Perfect quality, great prices & delivery time was great too!"
Mario
Miami
In this day of carbon offsetting and green living, Local Printing has created a completely localized, online printing solution by moving the traditional store front to online sites like http://www.MiamiBusinessCards.com. Print products are ordered through the website and then printed at a local printing location in Miami area, decreasing the environmental impact and economical cost of shipping.
MiamiBusinessCards.com offers a number of high-quality products and services including: letterheads, postcards, magnetic business cards, glossy business cards, raised print business cards, capture business cards, stamps and much more. Products are customizable and full-color with the highest quality material for a low cost.
About LocalPrinting.com:
With more print shops popping up across North America, print dealing and print broker channels are quickly becoming the most available and convenient way to make money online without large upfront investment. Local Printing has created an exciting new business opportunity that maximizes the success of operating an online print company. Whether you are an aspiring entrepreneur or an established printer, Local Printing will provide you with the resources on how to build or grow a larger customer base.
###