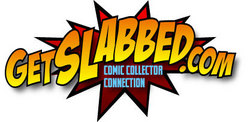 Houston, TX (PRWEB) March 9, 2010
Just as prices for collectible comics are rocketing to new highs with the sales of two comic books for $1 million each, longtime comic collector and roleplaying-game trailblazer Stewart Wieck unveiled a new comic-auction site called GetSlabbed.com.
GetSlabbed.com – the name refers to the hard plastic case that protects investment-quality comics – marries the advantages of eBay (direct communication between buyers and sellers) with the strengths of private comic-auction companies (expertise and comic book-centric website).
Unlike other comic sites, GetSlabbed.com engenders a sense of community, allowing buyers and sellers to negotiate directly with each other. All GetSlabbed.com sellers are prescreened and participate actively to develop and improve the site. For collectors who prefer not to deal directly with buyers, GetSlabbed.com offers anonymity and handles the entire transaction.
The site offers a host of unique features catering to comic book-trading aficionados. For instance, GetSlabbed.com is the only comic company to offer reverse-auctions, in which collectors can post information about a desired "book," as a comic is known, along with the maximum price they will pay. People with a copy meeting the stated requirements then can "bid" for that buyer's attention.
Under the name "iecarus," Wieck has sold thousands of comics on eBay for more than a decade, earning a 99.9 percent approval rating. The eBay experience was mostly good, he said, but not always, thanks to "that handful of deceitful or belligerent individuals."
"So in recent years I gravitated to some of the fine comic book-only websites, but I was discouraged that buying on these sites seemed like a purely business transaction. You almost never buy the book from the person who owns it – it's an anonymous transaction. The collecting aspect was ignored, and some of the joy was gone. So I saw that there was a place for a new site that operates with the openness of eBay, but deals exclusively with comic books," said Wieck, whose own comic collection worth about $1 million nets him the No. 7 spot on the well-regarded CGC comic registry-point list.
Outside of the comics world, Wieck is known for launching the company White Wolf Publishing. White Wolf's World of Darkness roleplaying games soon shot to the top of the sales charts in that industry. Its Vampire game was the impetus behind much of the vampire and urban-goth mythos that continues to be so popular today.
The GetSlabbed.com website has been designed to attract not only buyers and sellers, but also enthusiastic fans looking to test their comic credentials in quizzes and polls, and window shop for the likes of Avengers #4, with its first Silver Age appearance of Captain America. (Captain America's already solid investment status is certain to strengthen with the release of an upcoming feature film.)
"The hobby is benefiting greatly from the spectacular successes of many superhero movies. They continue to put these heroes of mythological stature in front of fans who are all potential investors. The movies, along with the rise of third-party graders that allow these new collectors to invest safely, have caused comic values to continue to rise, and there's every reason to believe the trend will continue," says Wieck.
Even amidst the recent economic downturn, comic book prices have continued to increase. And owning a copy of Incredible Hulk #181 featuring the first appearance of the popular anti-hero Wolverine is certainly more fun – and almost certainly more profitable – than owning stock in a big corporation.
On Feb. 23, for instance, a rare copy of the first comic book featuring Superman sold for $1 million, smashing the previous record price for a comic book. The issue features Superman lifting a car on its cover and originally cost 10 cents. Just a few days later this record was narrowly broken with Detective Comics #27 featuring the first appearance of Batman. It sold for $1,075,000 at auction in (where else?) Texas.
To learn more about the new site, visit GetSlabbed.com or become a fan on Facebook.
###