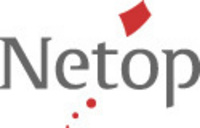 We developed these updates to our already popular endpoint protection software in response to specific requests from our customers who rely on it to keep their networks protected and up and running.
Chicago, IL (PRWEB) March 9, 2010
Netop ™, the world's largest provider of classroom management software, is taking affordable endpoint protection to the next level with today's launch of an update to Netop ProtectOn Pro™. Since its debut just a year ago, numerous schools, libraries and businesses around the country have turned to Netop ProtectOn for a comprehensive solution for keeping networked computers running reliably and free from damage. With this update, the first endpoint protection software to combine hard disk protection with remote management and powerful Internet, application and device controls now allows network managers to schedule hard disk protection, which means they can easily set aside time for virus protection updates or other scheduled maintenance. In addition, Netop ProtectOn Pro 1.1 features support for the new Microsoft Windows 7 operating system.
"With Netop ProtectOn Pro, network managers, particularly at schools and libraries, can be confident that their networks will run reliability and free from modifications and virus damage, no matter how many users log on every day," said Kurt Bager, CEO, Netop. "We developed these updates to our already popular endpoint protection software in response to specific requests from our customers who rely on it to keep their networks protected and up and running."
With Netop ProtectOn Pro , network managers can protect data and system integrity by controlling user access to USB and WiFi devices, hard disks, floppy drives, Web sites and software applications. They can automatically restore computers to a defined state and erase damage from viruses and unwanted downloads. They can also use Netop ProtectOn Pro to hide hard disk contents from certain users and provide others limited access to selected folders, ensuring that confidential school or company information is only accessed by authorized users.
Netop ProtectOn Pro also allows remote management of computers. Network managers can wake up, shut down or restart computers remotely. Using the solution, they can check computer disk space, view event logs, access the Windows task manager or manage computer services and shared drives. Netop ProtectOn Pro provides a central administrative console with a single comprehensive interface for managing networked computers, making it easy to set up and use.
This update to Netop ProtectOn Pro enhances and extends its already easy-to-use, comprehensive capabilities for protecting and managing computers. New capabilities include the ability to whitelist the WiFi networks to which the Agenda PC can connect when WiFi access is otherwise prohibited. In addition, network managers can quickly and easily add USB devices to their network whitelist, directly from the right-click menu in the device list.
Netop ProtectOn Pro is a server-based solution comprising three modules: a server module, one or more administrative console modules and an unlimited number of agent modules. The Netop ProtectOn Pro server module requires Microsoft SQL Server editions and comes packaged with SQL Server Compact edition. The server and console modules also require Microsoft.Net Framework 2.0, commonly available on newer Windows operating systems. Netop ProtectOn Pro provides this comprehensive solution for endpoint protection at prices that are at or below what other products cost for standalone hard disk protection or device control software. U.S. education pricing starts at $19 per computer for schools with 25 or more computers. Volume discounts are available.
The upgrade to Netop ProtectOn Pro 1.1 is free to customers with valid Netop upgrade insurance policies or can be purchased. For more information, visit http://www.netop.com.
About Netop Solutions A/S
Netop develops and sells software solutions that enable swift, secure and seamless transfer of video, screens, sounds and data between two or more computers over the Internet. The company has three business areas: Administration, Education and Communication.
Netop's unique and cost-saving Administration solutions make life easier for IT professionals with Remote Control and IT Asset Management. With the market-leading solutions for Education classroom management and corporate e-learning, Netop helps students and teachers to achieve optimum results through virtual education. Netop Communication solutions let customers, partners and colleagues meet easily and safely in the virtual space via chat, video and audio over the Internet.
Netop employs 142 people and has subsidiaries in the United States, Great Britain, Romania and Switzerland. The company sells its solutions to public and private clients in more than 80 countries. Netop Solutions A/S shares are listed on the Copenhagen Stock Exchange OMX. In 2008, Netop Solutions had a total revenue of DKK 92.1m. Read more at: http://www.netop.com.
# # #