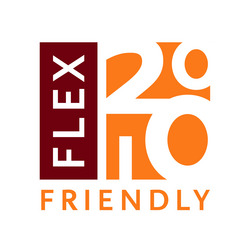 Hanover, NH (PRWEB) March 9, 2010
Flex-Friendly, which promotes workplace flexibility and recognizes organizations working to meet the needs of a changing workforce, announced the official program launch with its inaugural list of certified companies. The organizations from all around the United States represent many sizes and sectors from huge multinationals with billions in revenue to small businesses.
Collectively the Flex-Friendly Certified organizations employ hundreds of thousands of workers in the US as well as around the globe. Some have brick and mortar empires while others are built on a virtual model. Jane Seibel, CEO of Flex-Friendly, says "What these very diverse organizations have in common is a commitment to offering a range of flex work options as well as a belief that offering flexibility when possible is not only good for their workers but also for the bottom line." Workers surveyed confidentially from within these companies in turn reported to Flex-Friendly that even in a down economy working flexibly helps them feel happier, less stressed, more loyal to their employer and willing to go the extra mile.
The inaugural list of Flex-Friendly Certified organizations includes:
Accenture
Alpine Access
American Express
Arise
BettyConfidential.com
Career Step
FurstPerson
Honest Tea
Hypertherm
Knowledge Institute
LiveOps
MacGillivray + Lee
Madhouse Munchies
NH Businesses for Social Responsibility
Northeast Delta Dental
Nukk-Freeman & Cerra
Pixability
RSM McGladrey
Sara Lee
SeekingSitters
Stefanie Jones Public Relations
Teletrips
VIPDesk
Work+Life Fit, Inc.
Annie Farnsworth, Ph.D. Flex Friendly's CSO, added, "We're thrilled to announce this impressive roster of organizations that in this economy, understand the importance of offering flexible work options to workers regardless of their age, their gender or their marital status. As we continue to move through a global economic crisis, it is more important than ever to focus on the key employees who help companies to weather the storm particularly when companies are working with smaller staffs and tighter budgets. These Flex-Friendly companies clearly understand that one of the best ways to build loyalty is by offering workers some control over how, when and where work gets done."
All of the organizations in the program were able to demonstrate and verify flex work option availability for some of their workers and, in some cases, for their entire workforce in the United States. While the participating companies vary considerably in the amount and type of flex they offer, all of the
organizations involved have made a commitment to increasing access to flex options that work for the organization and the individual worker. Examples of flex work options offered include shift work, part-time work, telecommuting, flextime schedule changes, compressed work weeks, job sharing, sabbaticals, elderly, parental and adoptive care-giving leave options, time for civic engagement and volunteering, phased or gradual retirement, freelance /contract work and much more. Continues Farnsworth, "We encourage individuals and companies to join us in a national conversation about the emerging business case for flex and its positive impact on people, the planet, and on profits."
"Moving forward," says Seibel, "we will be posting employee and company thought leader flex-success stories on our growing online-directory and make this information available to a range of stakeholders eager to learn where flex is happening- and how companies are using it to save resources, reduce emissions and support happier and healthier workers-regardless of their size or industry. The information we're collecting and the business advice which these companies are eager to share helps confirm that offering flex work options is a relatively simple and effective way to successfully manage the bottom line while supporting workers, especially important during tough economic times. "
About Flex-Friendly:
The Flex-Friendly media campaign and third-party certification program helps businesses interested in finding cost effective ways to promote their flexible work options to a range of stakeholders. Experts in the flexible workspace, Flex-Friendly founders combine their decades of experience advising employers and employees about work/life and how to achieve workplace success. The rolling application process is simple and can be done online. To learn more about the program, to nominate an employer, or to apply to become Flex-Friendly log on at: http://www.flexfriendlycertificate.com or contact us at 1-800-671-0018
# # #