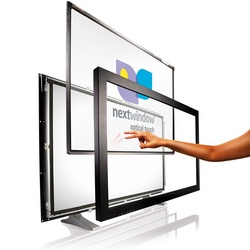 Many of the next generation Touch PCs, monitors and large-format displays will be developed by Korean companies
Pleasanton, CA (Vocus) March 9, 2010
NextWindow, the leading provider of optical touch screens to manufacturers of desktop PCs, monitors and large-format displays, today announced the opening of an office in Seoul, South Korea. The new office will be led by country manager Yong-sun Kim, who joins NextWindow after senior sales roles at international companies including Intel, where he managed the chip giant's business with Samsung. Mr. Kim and his team will support NextWindow customers in Korea, including many of the world's largest PC, monitor and large-format display companies.
NextWindow's decision to open an office in Korea is a response to increasing worldwide demand for Touch PCs, monitors and large-format displays. Displaybank, a global authority in market research and consulting for the display and solar industries, has estimated that the touch screen panel market will grow from $2.45 billion in 2009 to $3.6 billion in 2010. The recent launch of Windows 7 is helping to drive this market, as is demand for touch-enabled plasma and LCD displays in advanced corporate, retail and academic environments. For example, Korean electronics companies have been successful selling large-format displays, which serve as interactive teaching tools, to schools. By establishing a permanent office in Korea, NextWindow can better support the touch screen needs of these companies.
"Many of the next generation Touch PCs, monitors and large-format displays will be developed by Korean companies," said Al Monro, CEO at NextWindow. "With an office in the country we can develop stronger relationships with these companies. NextWindow has tremendous regard for Korean workers and products, known throughout the world for their integrity, reliability and high quality. For these reasons we've decided to significantly increase the size and scope of our operations in the country."
About NextWindow
NextWindow is a leader in touch-screen technology and a major manufacturer of optical multi-touch screens for OEMs, ODMs and resellers. With highly accurate, cost-effective solutions designed for personal and business use, NextWindow provides the hardware necessary to bring touch-screen technology to life—giving software designers the freedom to create exciting and intuitive applications. Founded in 2000, NextWindow is privately held with offices in New Zealand, Taiwan, California Singapore and Korea, with manufacturing facilities throughout Asia. More information about NextWindow is available at http://www.nextwindow.com.
Company contact:
David Villarina, NextWindow
+1 (925) 272-4530
###