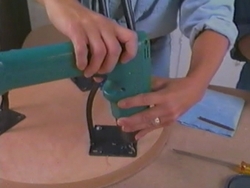 "We love knowing, you can enhance the look of a room at a fraction of the cost."
Los Angeles, California (PRWEB) March 19, 2010
The California based wrought iron leg company has responded to the demand of the more contemporary customer, offering a unique alternative to furniture making products on the market today.
Maidens of Iron, Inc. has been manufacturing Traditional, Toro and Classical wrought iron leg styles in the United States since 1997. Following design trends for over 10 years, Maidensofiron.com has provided customers the ability to bring design ideas into fruition.
Maidens of Iron How-to-Videos and Design Ideas, offer useful tips for customers with an inclination to create. Whatever your style, Maidensofiron.com has the right table legs for your project. Whether you live in a house, apartment, or condominium, your own handcrafted table is the perfect addition to any room.
CEO-Owner Lydia Lucciola states, "I am always delighted when a customer expresses enthusiasm in discovering our product line. Our goal in 2010 is to increase our exposure on the Web. We want people to find the right component when crafting their own furniture. Providing customers with an economical way to furnish their home or update a room is the very reason we started this company. We love knowing, you can enhance the look of a room at a fraction of the cost. The worldwide web is a great marketing tool, helping us reach our customers and attract new business. We want to be everywhere our customers are."
About Maidens of Iron, Inc.:
Maidens of Iron, Inc. was founded in 1997. Located in Los Angeles, Maidens of Iron is a design and distribution company selling quality furniture components exclusively through Maidensofiron.com. The website now offers four different iron leg styles in industry standard sizes. Maidens of Iron was featured in multiple episodes on HGTV's Decorating with Style and written up in the Business Section, Business Lessons from Southern California Entrepreneurs, Los Angeles Times.
For more information about Maidens of Iron, Inc. or to view its product line, visit http://www.Maidensofiron.com.
###