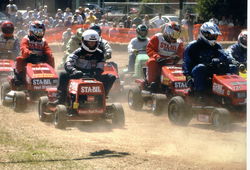 "What better way to enjoy the first day of spring and the vernal equinox than by racing lawn mowers in the 'Heart of Georgia'," said Bruce Kaufman, "Mr. Mow It All," USLMRA President. "Let's mow 'em down in Macon!"
Northbrook, IL (PRWEB) March 10, 2010
Turf titans of the U.S. Lawn Mower Racing Association (USLMRA) will celebrate the first days of spring as Cox Communications presents the 3rd Annual Lawn Mower Grand Prix, A USLMRA STA-BIL Racing Series Event, Benefiting Cox Capitol Theatre, at the Porter Pavilion of Amerson Waterworks Park, 2600 Riverview Rd., Macon, GA, Saturday March 20, 1:00pm and Sunday March 21, 12:00 noon. The races are free and open to the public.
"What better way to enjoy the first day of spring and the vernal equinox than by racing lawn mowers in the 'Heart of Georgia'," said Bruce Kaufman, "Mr. Mow It All," USLMRA President. "Let's mow 'em down in Macon!"
The Macon race weekend kicks off the 2010 STA-BIL National Lawn Mower Racing Series with two days of sod slinging action in the Peach State. Racers from across the South and as far as Michigan and Illinois will enjoy deck-to-deck bladeless competition as part of the Macon Cherry Blossom Festival. The event is a benefit for the Cox Capitol Theatre, a historic Macon Landmark that re-opened to the public in 2006.
The weekend will also feature an appearance by Bobby Cleveland, the Engine Answerman, of Locust Grove, GA, an Atlanta suburb. Cleveland is America's most decorated lawn mower racer and has competed in the famous British Lawn Mower Racing (BLMRA) 12 Hour Race (1999), the BLMRA World Championships (2004) and has set the World Land Speed Record on a lawn mower, 80.792 mph (2006) and the World Record for Monster Mower Jumping (2003).
The U.S. Lawn Mower Racing Association sanctions and presents organized lawn mower racing across America including the 18-race STA-BIL National Lawn Mower Racing Series and a network of 45 Local Chapters and Affiliated Clubs hosting more than 140 sanctioned races nationwide.
Races feature riding lawn mowers with cutting blades removed at speeds up to 60 mph. Lawn mowers race in four road course classes with all cutting blades removed: Juniors (15 mph), IMOW (20 mph), Prepared (50 mph) and Factory Experimental (60 mph). USLMRA lawn mower racing has been featured on the Discovery Channel, Fox Sports Net and in the Southern Lawn Mower Dealers Newsletter.
USLMRA sponsors include STA-BIL Fuel Stabilizer and K&N Filters.
For mow information visit http://www.letsmow.com
###