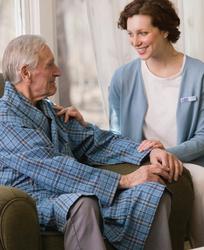 Small things like making sure transportation is available, encouraging exercise, and preventing isolation can really make all the difference.
Havertown, PA (PRWEB) March 8, 2010
Diabetes is a serious issue affecting 24 million Americans. It's a major health concern and mounting problem for the country as a whole – especially for the rapidly expanding senior population in Havertown, PA. In recognition of American Diabetes Day on March 23rd, Senior Helpers, the nation's fastest growing provider of senior in-home care services, is asking families to think about ways to reduce the impact of the disease on the local senior community.
"The population as a whole is aging and the number of seniors dealing with diabetes continues to climb," said Kevin Herman, President of Senior Helpers in Havertown, PA. "The risk of developing type 2 diabetes increases dramatically with age. It's important for seniors and their families to realize that there are ways to reduce the potential impact of diabetes on quality of life."
Consider the following facts about seniors and diabetes:

More than 23% of Americans age 60 and older have diabetes according to the American Diabetes Association.
An estimated 50 % of adult onset diabetes (type 2) occurs in those over 55 years of age.
Seniors are far more likely to have complicating conditions stemming from diabetes, including kidney problems, blindness, heart disease, stroke, and high blood pressure.
The total cost of diabetes in the United States for direct and indirect medical costs is estimated at more than $200 billion per year.
Research has repeatedly shown that physical activity is one of the best ways seniors can prevent the onset of type 2 diabetes and complications from the disease in those already diagnosed. As people get older, exercise becomes even more important in keeping the body healthy and able to fight debilitating diseases like diabetes. For seniors, the Centers for Disease Control and Prevention (CDC) recommends at least 30 minutes of exercise at moderate intensity, five or more times per week.
Benefits of Exercise for Seniors Fighting Diabetes:

Improves the body's use of insulin
Burns excess body fat, helping to decrease and control body weight
Increases blood flow to reduce risk of related heart disease
Keeps heart and blood vessels healthy by lowering "bad" (LDL) cholesterol
"Families should consider diabetes as it relates to care and arrangements for elderly loved ones," said Herman, "Small things like making sure transportation is available, encouraging exercise, and preventing isolation can really make all the difference. Professional caregivers can help by providing these services and motivating seniors to remain physically active, healthy, and sustain a high quality of life."
Media Contact:
Kevin Herman (610) 789-4700
kherman(at)seniorhelpers(dot)com
For more information about Senior Helpers, please visit: seniorhelperspa.com/
About Senior Helpers:
Senior Helpers connects professional caregivers with seniors who wish to live at home as opposed to a nursing or assisted living facility. The company has 283 franchises in 39 states and one in Canada offering a wide range of personal and companion care services to assist seniors living independently with a strong focus on quality of life for the client and peace of mind for their families. Senior Helpers strives to be the leading companion and personal care provider that offers dependable, consistent and affordable home care.
For more information, please visit: seniorhelperspa.com/
###