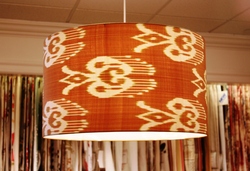 Ikats are not just for pillows anymore!
New York, NY (PRWEB) March 10, 2010
John Bermingham, President of Bermingham & Co., the New York based antiques and fabric importing company, has announced that his collection of silk Ikats will be exclusively represented by Brunschwig & Fils, a firm known throughout the design industry as one of the leading purveyors of high-end fabrics, wallpapers and home furnishings.
"Our Ikat collection is an interesting addition to the Brunschwig line", said Bermingham. "We are taking a little known product and putting it on the international stage."
For the last several years Bermingham & Co. has been working with the most prominent silk weavers in Uzbekistan to create a collection that is both unique and versatile. "Traditionally, the fabrics from this region have been bright and flashy, very tribal in a way" said Bermingham. "We wanted to see if we could tone down a few so that we could have some more subtle choices for the designer."
In addition to adapting the collection, Bermingham & Co. has been instrumental in developing new uses for this traditional fabric. Related products now range from custom lampshades to down-filled bed quilts. "Ikats are not just for pillows anymore!" said Bermingham.
To date, the collection can be found in three of Brunschwig's showrooms (New York, Paris and Dania) with several more in the works. In addition to Bermingham & Co., Brunschwig has recently brought a number of prominent companies into their fold including the Christopher Norman Collection, Houles, Hinson, and the English Looking Glass Company.
Bermingham & Co. was founded in 2004 as collaboration between New York native John Bermingham and his French wife Karine, both of whom had extensive antiques and design backgrounds. John had worked for 15 years for the founders of the Pierre Deux shops while Karine worked as an upholsterer for Bergeres et Marquises in Paris. "The blending of our two perspectives has been the key to our success in this ever changing business" Bermingham concludes.
Brunschwig & Fils is located at the Design & Decoration Building, 979 Third Avenue in New York, and has twenty-four showrooms throughout the United States, Canada, Europe, and Australia. For product information, visit http://www.brunschwig.com.
For information pertaining to Bermingham & Co., phone 212-223-6546 or visit http://www.berminghamfabrics.com
###