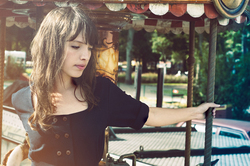 "The atmosphere is full of mystery and intensity - and it is alluring. …Top it up with daring tracks such as the cover versions of 'Toxic' and 'Lovecats' and a debut album just doesn't get much better than this..." KBHAdd a quote
New York, NY (PRWEB) March 9, 2010
Like a bug in a web, fans are seduced by CALLmeKAT's evocative, unexpected sound. Her live performances seal the deal; filled with fanciful flavors, effortlessly mesmerizing.
Next stop: CALLmeKAT takes on the U.S. She will be on the Must-See list for SXSW tastemakers and fans, playing a series of showcases in Austin, then showcasing at a series of shows in New York City.CallMeKat
SXSW Performances:
Thursday 3/18
Porchjam Showcase
Time: 3pm - 3:30pm
Location: Austin Convention Center
Friday 3/19
House of Songs Official Day Party
Time: 4:10pm - 4:30pm
Location: Lambert's
Saturday 3/20
House of Songs Official Showcase
Time: 8pm - 8:40pm
Location: Momo's
Reviews:
"The Scandinavian melancholy flows like a newly sprung spring stream through the woods, all while it resembles a French black and white movie from the 1960s. The material is organic, highly aesthetic and somewhat universal…" Soundvenue
"I was impressed with her sound - she has a great way of bringing elements from the past and incorporating them into her mix, sounding uniquely fresh. I wish we had pop artists like her in the U.S..." Miles Perlich, United Groove, KJazz
"Fragile, edgy, dream spice. Katrine Ottosen sings with such sensual and steamy vibratos.... Katrine Ottosen has one of the most seductive voices to enter the scene this year… " Jyllandsposten, The Morning Newspaper.
"CALLmeKAT has that unique vibe that can only grow as she grows. Haunting and penetrating, seductive and smooth CALLmeKAT is a force of nature." Jay Spica WVKR Radio
CALLmeKAT - Bio Brief
Some obsessions start early, really early. For CALLmeKAT's songwriter, singer, keyboard player Katrine Ottosen, the uncontrollable lure to play piano began when the Dane was just 5 years old and she taught herself to play Beatles chords. She secretly started writing music not long after.
Soon her vocal gift was impossible to ignore. As a teen, Kat left her home in a Denmark forest to tour Europe, Asia and the U.S. In France she recorded two albums, including lending her voice as guest vocalis along with Yael Naim, Juliette Lewis and Skye for Nouvelle Vague producer Marc Collin's album "Hollywood Mon Amour." Once back home, she started recording her own songs.
When Kat stumbled upon a Casio electronic keyboard, it was love at first listen. It was through it that she could channel her art and developing sound. From an abandoned barn in Upstate NY, she single-handedly wrote, recorded and produced a cache of music, which later was released as an EP mixed by Valgeir Sigurdsson (Bjork, Kate Nash) underwritten by a prestigious grant from the Danish Arts Council. The fashion industry got hooked, and CallMeKat's music was embraced by leading designers who wanted just the right vibe for their couture runway shows and international TV commercials.
Through collaboration between her own label Pixiebooth and the Scandinavian label Playground, she released "I'm in a Polaroid - Where Are You" and "Fall Down" and echoed rave reviews in the Danish press. CALLmeKAT was also invited to contribute a cover of The Cure's "The Lovecats" for "Perfect As Cats - A Tribute To The Cure," with Bat For Lashes, The Dandy Warhols, and Blonde Redhead.
CALLmeKAT has been winning radio exposure, gushing reviews and relishing the live experience of playing clubs and large festivals throughout Europe. CALLmeKAT is in the midst of finishing her international full-length debut, "When Owls Are Out" which is being mastered in NYC at Sterling with recordings by Daniel Fridell the new mixes and additional recordings by Joe Magistro (Prophet Omega).
Myspace: http://www.myspace.com/thisiscallmekat
Facebook: http://www.facebook.com/pages/CALLmeKAT/6524858142
###