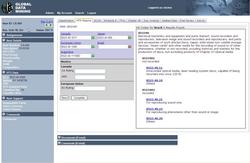 The Global Trade Desktop helped us move from a form-driven, disjointed system to a single, up-to-date platform that all import/export personnel can access.
Eden, UT (PRWEB) March 9, 2010 –-
Global Data Mining LLC (http://www.gdmllc.com ), the leading provider of database management and customs classification systems, today announced that Hitachi America, Ltd. has selected Global Data Mining's web-based HS classification system, The Global Trade Desktop™. The Global Trade Desktop helps companies reduce costs, increase supply chain efficiency and effectively manage classification functions for multiple business units around the world.
"The Global Trade Desktop helped us move from a form-driven, disjointed system to a single, up-to-date platform that all import/export personnel can access," said Doug Turnbull, director of trade compliance at Hitachi America, Ltd. "The Desktop has been well worth the investment. It has streamlined our communications, eliminated the need for each business group to maintain separate product records, made it easier to update information more efficiently, and enabled us to readily access information from any location at any time."
"I am proud and very pleased that the Desktop helps our clients optimize their business processes," said Matt Gersper, president and founder at Global Data Mining, LLC. "The Desktop has clearly filled an underserved niche helping trade professionals conduct HS and Customs research and maintain a worldwide HS classification database more efficiently, improving compliance, supply chain speed and ultimately, saving the company money."
The Desktop optimizes the process of classifying products and maintaining complete "audit-ready" records. It maintains company-specific trade data with HS classifications assigned to each item, for every country, with supportive rulings and other documentation stored with the item in a single, universally accessible database.
The Desktop is designed so approved classification data can be easily integrated with GTM applications, Importer Security Filing (10+2) applications, Product Lifecycle Management applications, Transportation Management Systems, ERP systems or any other application that may need accurate customs and classification data.
Global Trade Desktop Highlights:

Offers the flexibility of a spreadsheet, the sophistication of an ERP and the low total cost of ownership of a web-based service
Enterprise-wide system of record or the "single version of the truth" for HS classifications and customs information about every item a company moves across every international border
Synergetic with GTM applications, easily integrates classification data with any computer application and with any business unit around the world
Reduces manual work and keying errors
Unique, web-enabled SQL database customized to meet each company's specific data requirements
Protected by the same rigorous encryption protocols for data transmission and security as online banking and other secure websites
Software-as-a-service (SaaS) model, automatically updates users with the latest best-practice enhancements installed since their previous login
Manages worldwide staff from one central location
Hosted on Global Data Mining's servers behind a secure firewall to assure timely updates of functionality and to incorporate the global trade content used to make the system more powerful
Supporting Resources

About Global Data Mining
Global Data Mining and its sister company CUSTOMS Info provide database management and customs classification systems to help businesses optimize global trade management (GTM) systems and streamline global trade automation. Global Data Mining helps multi-national companies optimize business processes and turn unorganized data into corporate assets managers and executives use to improve performance, save money and accelerate the international supply chain. CUSTOMS Info provides the world's most comprehensive trade data repository delivered via web-based subscription or as data to populate any GTM or Landed Cost application.
Working in conjunction with GTM applications, Global Data Mining and CUSTOMS Info's strategic partners include SAP, Oracle, MIC, Kewill, and others. Please visit http://www.gdmllc.com for more information.
###