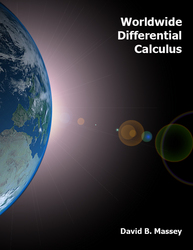 Professor Robert Case commented "[this] work is conversational, more rigorous than the usual text, and has multiple resources"
Cambridge, MA (PRWEB) March 9, 2010
Northeastern University in Boston Massachusetts, has selected Worldwide Differential Calculus and Worldwide Integral Calculus with infinite series, for the 2010/2011 semester for their first 1st-year Calculus sequence for Science and Engineering. The school was previously using James Stewart's Calculus series, so this marks a shift in textbook-purchasing decisions as departments are choosing to move from hard-cover expensive textbooks in favor of less-expensive/free versions, available in a multitude of formats.
Professor Robert Case commented "[this] work is conversational, more rigorous than the usual text, and has multiple resources" Professor Alex Martsinkovsky also commented "the potential of the proposed model is tremendous", "In my opinion, it is critical to offer materials optimized for mobile platforms" and "The students who commute in a crowded space would appreciate the possibility to read the text in the palm of a hand."
The textbook is available for purchase in a bound, full-color, printed version, with an accompanying DVD containing the video lectures; the price for this printed version, with videos, is less than half of the common price for a current Calculus textbook. Students may also purchase, on DVD's, a study guide, a solution manual, the PDF textbook and video lectures, or the PDF textbook with the videos embedded into the PDF. Faculty and/or departments may license the source files to produce their own customized versions of Worldwide Differential Calculus, which may then be distributed freely to students, or at a profit to the departments or schools.
Future e-textbooks:
Worldwide Multivariable Calculus, the third e-textbook in the Calculus series, will follow Worldwide Differential Calculus and Worldwide Integral Calculus with infinite series. This will be followed by a series of undergraduate e-textbooks on linear algebra, differential equations, etc., as well as test-preparation e-books, aimed at prospective undergraduate, graduate, and professional school students.
About the author:
David B. Massey was born in Jacksonville, Florida in 1959. He attended Duke University as an undergraduate mathematics major from 1977 to 1981, graduating summa cum laude. He remained at Duke as a graduate student from 1981 to 1986. He received his Ph.D. in mathematics in 1986 for his results in the area of complex analytic singularities.
Professor Massey taught for two years at Duke as a graduate student, and then for two years, 1986-1988, as a Visiting Assistant Professor at the University of Notre Dame. In 1988, he was awarded a National Science Foundation Postdoctoral Research Fellowship, and went to conduct research on singularities at Northeastern University. In 1991, he assumed a regular faculty position in the Mathematics Department at Northeastern. He has remained at Northeastern University ever since, where he is now a Full Professor.
Professor Massey has won awards for his teaching, both as a graduate student and as a faculty member at Northeastern. He has published 32 research papers, and two research-level books. In addition, he was a chapter author of the national award-winning book on teaching: "Dear Jonas: What can I say?, Chalk Talk: E-advice from Jonas Chalk, Legendary College Teacher'', edited by D. Qualters and M. Diamond, New Forums Press, (2004).
About the Worldwide Center of Mathematics, LLC:
The Worldwide Center of Mathematics, LLC was founded in the fall of 2008 by David B. Massey, an award-winning professor, with 26 years of college teaching experience, and a leading research mathematician in the area of singularities.
In addition to producing and publishing multimedia textbooks, the Center performs other free services for the mathematical community, such as a providing a freely-accessible Journal of Singularities (which has just sent out limited invitations to submit papers for the first volume), and recording and freely-distributing, via the Web, research lectures which are given before live audiences in our studio classroom. In the future, we hope to provide other services, such as walk-in tutoring for students in the greater-Boston area, and 24/7 online mathematics help.
###