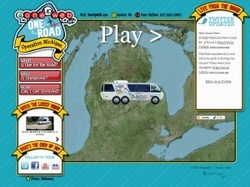 If I had it to do all over again, I wouldn't change a thing.
Traverse City, MI (PRWEB) March 9, 2010 -
Four distinctly different campaigns, all uniquely Oneupweb. It was a recipe for success at the Great Lakes Bay Region 31st Annual ADDY® Competition, with Oneupweb bringing home four Gold ADDY®s, a Judges' Choice Award and Best of Show honors.
"Everyone at Oneupweb is excited about these honors. At the time each of these campaigns launched, we knew we had something. But it's easy to put your head down, get the work done and move on to the next project without stopping to review what you've done," says Oneupweb Founder and CEO Lisa Wehr. "This serves as a great reminder of the kind of award-winning work we produce for ourselves and our clients on a daily basis."
With over 60,000 entries annually, the ADDY® Awards are the world's largest and arguably toughest advertising competition. The ADDY® Awards represent the true spirit of creative excellence by recognizing all forms of advertising from media of all types, creative of all sizes and entrants of all levels from anywhere in the world. The American Advertising Federation, a not-for-profit industry association conducts the ADDY® Awards through its 200 advertising clubs and 15 districts. It is the only creative awards program administered by the advertising industry for the industry.
Oneupweb's 2010 Great Lakes Bay Region ADDY® honors include:

"Over the past year we've been perfecting our hand at new marketing pieces like smartphone applications, augmented reality and social media," says Wehr. "It's great to see these types of cutting-edge pieces stand out from this year's talented field of competitors."
And the competition is about to get even tougher, as all four campaigns will advance to the districts, the next round of judging. After that, it's on to the nationals.
"These ADDY® awards are like the icing on the cake of an incredible 10 years in Traverse City," says Wehr. "If I had it to do all over again, I wouldn't change a thing."
And apparently, the ADDY® judges agree.
About Oneupweb
Oneupweb has been an innovator in digital marketing for more than a decade, creating integrated online marketing plans that incorporate natural search engine optimization (SEO), paid search marketing (PPC), social media marketing, digital pr, display advertising, analytics, creative services, mobile marketing, website design, web 2.0 technology, audio/video/podcasting, and research, training and consultation. Heralded by an independent research firm for their leadership team, Midwestern work ethic and solid experience in optimizing complicated sites, Oneupweb has been named a Top 20 Search Marketing Agency by Advertising Age for three consecutive years, and CEO Lisa Wehr is recognized as an Ernst & Young Entrepreneur of the Year. The company publishes an award-winning blog entitled StraightUpSearch, and an award-winning monthly newsletter entitled OneUp Low-Down. Oneupweb is a privately held company located in Traverse City, Michigan. For more information on Oneupweb, please call 231.922.9977, visit OneUpWeb.com or follow them on Twitter @Oneupweb and @LisaWehr.
###