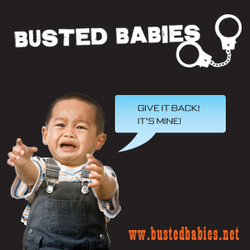 "We wanted to give parents, family and friends some recourse over bad baby behavior as well as shift the infant and toddler/adult power balance"
Monrovia, CA (PRWEB) March 16, 2010
Frustrated parents and beleaguered bystanders can now digitally capture and document their baby or toddler's wrong-doings and worst, most infantile moments at BustedBabies.net.
At BustedBabies.net users can book pint-sized criminals, create speech bubbles and maybe even consider themselves lucky when they browse photos and alibis of their baby's peers' criminal activities. Users can simply upload their child's image, create a funny speech bubble and view and share the uproarious BustedBabies results with family and friends alike.
Booking crimes include DUI's (peddling vehicles under the influence of too much sugar), Disorderly Conduct, Forgery (i.e. the paper tie you got for Father's Day) and Identity Theft (i.e. impersonating a Superhero).
"We wanted to give parents, family and friends some recourse over bad baby behavior while shifting the infant and toddler/adult power balance," were among the reasons cited by Busted Baby Authorities when asked why the site was created. They also added "it's only logical that in order for baby crimes to decrease, baby accountability must increase."
Since its inception, bookings have been increasing daily. A recent official release stated, "We believe that the community has embraced BustedBabies.net because by taking action, they're taking part in something bigger than themselves – even though babies are in fact quite small." Some parents have even claimed the site to be humorously therapeutic.
Users can make a difference at BustedBabies.net. Book a baby – their own, their neighbors or perhaps their nephew, familiarize themselves with baby criminals at large, vote for the Busted Baby of the Day or shop for Busted Babies merchandise.
Making America safer, one baby at a time.
BustedBabies.net is a photo blog website where users can view hilarious busted baby mugshots with silly speech bubbles, book a baby or toddler gone bad and some more stuff too. For more information about BustedBabies.net or to schedule press interviews please contact Lynn Chang, a Busted Baby Authority, at 626 673 3076 | lynn(at)bustedbabies(dot)net
# # #