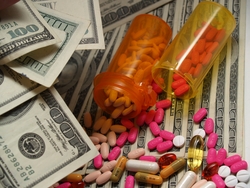 John Casillas, Senior Vice President, HIMSS Medical Banking Project, described the recipient of the Disruptive Innovator Award as "an innovative firm with the potential to transform the prescription drug segment of healthcare."
Little Rock, Arkansas (PRWEB) March 9, 2010
Medical Banking Rx, LLC, a full service pharmacy benefit management (PBM) firm, today announced that it has received the 2010 Healthcare Information and Management Systems Society (HIMSS) Medical Banking Project Disruptive Innovator Award. The Disruptive Innovator Award was in recognition of the development of Patient Driven Rx(SM), a truly unique prescription drug program that provides real-time solutions to the deficiencies inherent in the Consumer Driven Health (CDH) market. The award was presented during the 8th National Medical Banking Institute segment of the HIMSS 2010 Annual Conference, in Atlanta, Georgia.
Under all current, traditional CDH pharmacy programs, there are no real-time safeguards to prevent pharmacists from circumventing the adjudication process before the consumer has met their deductible and little, to no chance, of being caught when they do. When a pharmacist circumvents the adjudication process, 1) the deductible accumulator is not tracked at the point of service, 2) consumers do not receive the discounted price, 3) the pharmacy claim is not counted toward the consumer's deductible, and 4) instant drug utilization review is not provided for the prescription that was not submitted.
The Medical Banking Rx prescription drug program for the CDH market, Patient Driven Rx(SM), has a built-in proprietary solution that serves as a real-time quality control measure to prevent the pharmacist from circumventing the claim adjudication process. The Patient Driven Rx(SM) program satisfies a client's complete prescription drug program needs and effectively addresses the CDH interoperability issues, greatly enhances the consumer experience, provides all of the quality of care and cost containment advantages of an aggressively managed prescription drug program (without restricting choices) before the consumer's deductible is met, and is neither an insurance program nor a traditional 100% copay plan (pharmacy "discount" card program).
Rick Morrison, President, Medical Banking Rx, commented, "It is a tremendous honor to receive such a prestigious award from the HIMSS Medical Banking Project and it serves to verify the value our Patient Driven Rx(SM) prescription drug program brings to the CDH market."
About Medical Banking Rx, LLC
Medical Banking Rx is a full service pharmacy benefit management (PBM) firm that uses unconventional approaches to achieve exceptional results. It has developed and administers a one-of-a-kind prescription drug program, Patient Driven RxSM to meet the unique needs of the Consumer Driven Health (CDH) market including Health Savings Accounts (HSAs), Health Reimbursement Accounts (HRAs) and Medical Savings Accounts (MSAs). Under this program, Medical Banking Rx contracts directly with High Deductible Health Plans, and partners with Custodial Banks and HSA Administrators and provides both a significant value proposition and enables product differentiation by eliminating the deficiency that is responsible for the top four (4) problems inherent under all other CDH pharmacy programs prior to consumers meeting their deductible. Medical Banking Rx has developed and administers other innovative programs and provides full disclosure and transparency.
# # #