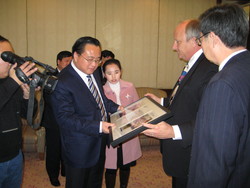 "Adding high technology products like TrueVision to our product offering is a strategic focus for WEGO." stated Chen Xue Li, Chairman and CEO of WEGO Group.
(PRWEB) March 10, 2010
TrueVision Systems, Inc. announced that it signed a letter of intent (LOI) with the Weigao Group (WEGO) to create a Chinese joint venture (JV) called WEGO-TrueVision to build and distribute TrueVision products in China. TrueVision® is a real-time 3D high-definition visualization and guidance system for microsurgery that includes brain, eye, spine, ear, nose, and throat surgeries.
"TrueVision's 3D visualization and guidance technology will be of great value in orthopedic surgery, especially in the spine and hand areas." stated Dr. Tan Yuan Chao, President of the 900 bed Wendeng Orthopedics Hospital. "Their guidance software applications should greatly help to raise the level of skill for all surgeons and improve patient outcomes."
Dr. Liu, President of Weihai ENT and Eye Hospital added, "TrueVision's 3D digital technology is immediately valuable for superior visualization and teaching microsurgery techniques. In the near future, TrueVision should be able to replace the both the surgical microscope (optical imaging) and the navigation systems with one integrated, easy to use, platform."
WEGO is one of four publicly traded Chinese medical device companies with annual revenues that exceed $1B US. They have 12,000 employees that make and sell over 300 products and are located in the City of Weihai in the Shandong province. They are one of largest medical device companies in China and are actively seeking US emerging companies with the latest technologies to bring into China.
"Adding high technology products like TrueVision to our product offering is a strategic focus for WEGO." stated Chen Xue Li, Chairman and CEO of WEGO Group. "We are very excited about this Joint Venture, and believe it will provide great value to both patients and surgeons for microsurgery procedures."
Mr Shutao Sun, Mayor of Weihai Shandong China commented, "The TrueVision-WEGO Joint Venture is good for both Weihai and good for China in general. TrueVision represents a class of new and best medical technology that we wish to incorporate in our build-out of China's healthcare infrastructure. TrueVision and WeiGao seem to be a very synergistic fit."
"The timing is good for TrueVision to partner with one of the strongest medical device companies in China," stated Forrest Fleming, TrueVision CEO. "The Chinese government will invest over two hundred billion dollars into upgrading their country's healthcare infrastructure over the next 5 years and are committed to leapfrog older technologies like microscopes (optical imaging based) to adopt newer technologies like TrueVision (digital imaging based)."
###