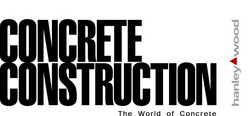 Washington, DC (PRWEB) March 9, 2010
CONCRETE CONSTRUCTION's Artistry in Decorative Concrete demonstrations, held February 2 through February 5 at World of Concrete 2010, Las Vegas Convention Center, reports 12,600 attendees a 60 percent increase over the previous year.
"We had an outstanding turnout this year" said editor, Tim Gregorski. "The high level of interest and positive response reinforces the idea that decorative and concrete surface enhancement is not just for artisans and applicators but also has the power to make a significant impact in the general commercial concrete community."
Artistry in Decorative Concrete is a multi-day educational demonstration focusing on the talents of creative concrete contractors from all over the country. The goal is to show the possibilities, encouraging other contractors to be more creative with their work. The demo supports industry growth and the increased sales of decorative and concrete surface enhancement products.
Eleven decorative concrete professionals spent the first two days demonstrating their work-in-progress. The final 1½ days featured completed project displays including a 9/11 memorial, polished concrete using stencils and dyes, and a modern, well crafted piece of concrete furniture. Emerging and available technologies promoted solutions to commercial concrete problems, ways to apply new techniques, reflectivity and, new in 2010, educational workshops titled Contractor Clinics.
Artistry in Decorative Concrete was sponsored by Buddy Rhodes Concrete Products, Butterfield Color, Concrete Coatings, Concrete Solutions, ConcreteNetwork.com, Elite Crete Systems, Inc., HP Spartacote, The Stamp Store and Stardek.
A new tools demonstration area was added this year recognizing that "hands on" people who work with concrete in the field every day appreciate good tools. How a tool feels in your hands and how it performs is important. The focus of these demonstrations was new technology, sponsored by Bosch Power Tool. Artistry visitors were invited to try out new tools and after market bits and accessories to see how they perform on job functions decorative contractors regularly do; dry diamond polishing, coring holes, engraving, and forming operations, using the latest lithium ion battery powered tools.
Detailed information about each project and photo slideshows will appear in the April issue of Concrete Construction and posted at http://www.concreteconstruction.net.
For high-resolution photos, contact Joe Nasvik, CONCRETE CONSTRUCTION, Editor, at 773-824-2510.
About Hanley Wood
Hanley Wood, LLC, is the premier media and information company serving housing and construction. Through four operating divisions, the company produces award-winning magazines and Web sites, marquee trade shows and events, rich data and custom marketing solutions. The company also is North America's leading publisher of home plans. Hanley Wood Business Media (Washington, D.C.), publishes 30 award-winning residential and commercial construction titles, including BUILDER, REMODELING, ARCHITECT, CUSTOM HOME, CONCRETE CONSTRUCTION, and RESIDENTIAL ARCHITECT. Hanley Wood Business Media also offers the construction industry's foremost collection of Web sites, including BUILDER ONLINE, REMODELING ONLINE, and ebuild, the comprehensive online guide to building products, as well as the largest collection of house plans online through eplans.com and DREAM HOME SOURCE.
Founded in 1976, Hanley Wood is a $250 million company owned by affiliates of JPMorgan Partners, LLC. CCMP Capital Advisors manages the Hanley Wood investment for JPMorgan Partners.
###