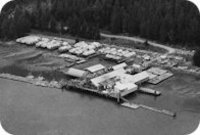 We are pleased to have had the opportunity to help restore and diversify Cassiar Cannery into the conservation economy - Justine
(PRWEB) March 19, 2010
121 years in the making, nestled in the estuary of the Skeena River, the historic Cassiar Cannery, BC's longest consecutively operated cannery, is pleased to announce its diversification into the tourism market as one cornerstone of its revitalization and restoration. As thousands before can attest, there is something remarkable about this place. Cassiar Cannery…where history and nature meet.
Cassiar Cannery is proud to offer two restored waterfront heritage houses for nightly rentals as the first phase of Cassiar's new tourism initiative. Both self-catered Guest Houses are equipped with full kitchens and new beds with luxury linens in a unique and beautiful setting. Sport fishing, North Pacific Cannery Museum, a National Historic Site, government marina with boat launch and a general store with marine fuel, fishing licenses and bait within 15 minutes. Most other essentials are readily available less than 30 minutes away in Prince Rupert.
Poseidon Marine is continuing the century old tradition of boat repair, restorations and storage at Cassiar offering a full range of shipwright services. Specializing in wooden boats, Poseidon Marine brings 20 years of marine and woodwork experience to the North Coast. Interested in using beautiful red cedar or spruce without cutting down a tree? Visit our website at http://www.cassiarcannery.com to see how in can be done.
Since the summer of 2006, Cassiar Cannery has been undergoing restoration and diversification into the conservation economy. A character in its own right – Cassiar Cannery – established in 1889 and still going 121 years later.
###