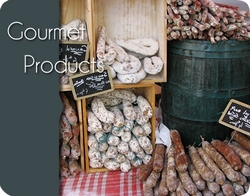 European Gourmet Products at Wholesale Prices.
La Jolla, CA (PRWEB) March 10, 2010
For those of us with a penchant for European cuisine – and for bargain shopping – a newly-opened gourmet food wholesaler offers the best of both worlds. Euro Food Depot a San Diego-based specialty food distributor, makes it easy to obtain European delicacies without breaking the bank. By offering rarities imported from Europe (or inspired by European cuisine and crafted in the U.S.), the company draws clients seeking a taste of Europe here in the U.S.
Clients may purchase artisan goods at either Euro Food Depot's physical location (a showroom in San Diego) or through the company's online store. Both options allow clients to choose from a wide variety of delicacies from France, Spain, Italy, and other countries. Whether patrons seek gourmet cheeses, specialty meats, high-end chocolates and desserts, or dried beans and other staples, they can expect to find the items at unbeatable prices. Even specialty goods such as caviar, Foie Gras, escargot, boudin noir, prosciutto, and truffles are affordable – available at an estimated 20 percent of the retail prices of many non-wholesale specialty food distributors.
It is no wonder that numerous foodie publications – including Food Buzz SD, San Diego News Network, and San Diego Insider Tours – have featured Euro Food Depot.
Euro Food Depot is owned and operated by Fabien Faucheux and Franck Danglard of San Diego. Faucheux, a food and beverage industry veteran, and Danglard, owner of several Southern California businesses, aim to market some 600 gourmet foods at rock-bottom prices. Through eurofooddepot.com, the company's online store, the pair expects to expand its clientele and offer mail order gourmet food options to clients throughout the nation.
For more information about Euro Food Depot, or to begin the process of planning your next craft food event, call 858-452-9200, e-mail [email protected], or visit http://www.eurofooddepot.com today.
Euro Food Depot is located at 6370 Lusk Boulevard, off of Mira Mesa Boulevard in San Diego.
###