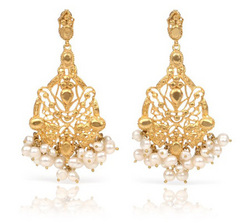 Alexandria, Virginia (PRWEB) March 9, 2010
Online fashion jewelry purveyor shopterrene.com today announced that it will run a huge Spring sale on its entire inventory of jewelry from March 9th to May 1st. Prices on the entire collection of jewelry items at shopterrene.com will be reduced by as much as 65% during the sale period. Shopterrene.com is an online jewelry boutique that offers hand-crafted gold and silver jewelry, turquoise and gemstone sets, and other unique pieces from around the world.
The sale covers some of the site's most popular designs and designers, including jewelry from Sura and Rocha Carvao.
"This is the first time we've put our entire inventory on sale; it's my way of saying goodbye and good riddance to this cold winter we've had," says Terrene CEO Nancy Alexander. "Spring is a great time to wake up with fresh and colorful jewelry pieces that complement spring fabrics and styles. I want every customer to be able to treat herself to something really special for the season."
The Terrene Spring fashion jewelry sale runs through May 1st.
About Terrene Jewelry
Launched in 2008 by Nancy Alexander, Terrene Jewelry selects unique handcrafted and hand-finished artisanal jewelry from around the world and makes it available to North American consumers via shopterrene.com.
###