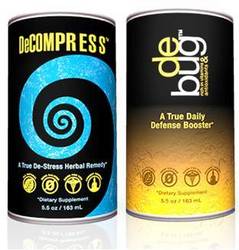 Our goal is to go back to basics using nature's remedies as much as possible and bring the mindset of Indian Aryuvedic and Chinese medicine to the West by making "good for you" Functional Beverages. says Bobby Chacko- President and CEO of EYL Beverages.
Atlanta, GA (PRWEB) March 10, 2010
EYL Beverages Inc. introduces their first two products at the 2010 All Natural EXPO WEST show in Anaheim, California. The first product, DeCOMPRESS™ is for Stress Relief while Debug™ is for Immune System support. A follow-up for Menopause relief will launch in the later part of 2010.
"The all natural products show draws the type of buyers and distributors that are focused on getting natural beverage products to consumers, this event supports our 'Enrich Your Life !™' relationship plans," said Bobby Chacko, President and CEO, EYL Beverages Inc.
DeCOMPRESS™ is made from a special mix of sworn Asian herbal remedies designed to help soothe the mind and body. Its main ingredient, L-Theanine, found in tea plants, helps to unwind while keeping alert. Valerian Root and Passion Flower give additional calming and stress relieving benefits. India's Ashwagandha and China's popular Ginseng are used for its proven restorative and rejuvenating properties. Bupleurum, a popular Chinese "harmony" herb, helps the body and its organs become balanced. For taste, a hint of pear and apple to a high anti-oxidant green tea makes a healthy and delicious beverage.
Debug™ is a daily defense booster beverage made from the most trusted ancient Indian and Chinese herbal remedies. For centuries these ancient Asian cultures used immunity boosting herbs to help defend the body's system against germs. Debug™ marries China's immune enhancing Astragalus with India's rejuvenating Ashwagandha to help protect the body. One of the best ways to support the body's own defenses is to consume nutrient dense, whole foods that contain protective antioxidants and essential amino acids. Stabilized rice bran is a core part of Debug™. With its 110 known anti-oxidants it contains all the vitamins, minerals and other nutrients needed to fight disease, aging and to promote good health (source: Nutracea). Goldenseal known for its antiseptic and antioxidants help round out this special blend. For taste, a hint of orange and coconut water to a high anti-oxidant red and black tea blend creates a tasty daily defense booster.
"Stabilized Rice Bran found in debug has high fiber content. Debug's antioxidant profile and unique nutritional properties inherent in rice bran elevates the overall nutritional profile. It is hard to find any products on the market today using such a nutritious food ingredient in beverage form," says Dr. Billy G. Chacko MD FACP, DTM&H, MRCP, Chair Internal Medicine, Harbin Clinic.
The company's vision is to bring the Eastern holistic approach to healthy living to Western lifestyles through Liquid Functional Nutrition. EYL offers consumers an opportunity to move away from a highly reactive approach to personal healthcare to a more proactive approach through their 'good for you' portfolio of products that complement everyday beverage consumption occasions.
Learn more of their exciting innovation pipeline and sample their true Liquid Functional Nutrition Drinks @ Booth 5859 at Natural Products EXPO WEST- March 12-14 Anaheim,CA.
For more information about these new Liquid Functional Nutrition products, visit: http://www.EYLDrinks.com
For a press kit contact:
Bobby Chacko
678-385- 6130
4355 Cobb Parkway
Suite J272
Atlanta, GA 30339
Life Happens…Drink Freely!™
About EYL:
EYL Beverages Inc. was founded in August 2009 with the purpose of developing and marketing premium functional beverages tailored to specific physiological support (i.e Stress Relief or Bone/Joint ache relief) for consumers. Their mission is to redefine how people engage with beverages for function rather than merely empty calorie refreshment.
"Our belief is that current beverages need more purpose than empty calories and we feel that EYL beverages portfolio is the best means to deliver purposeful nutrition, function and great taste. Our goal is to go back to basics using nature's remedies as much as possible and bring the mindset of Indian Aryuvedic and Chinese medicine to the West by making "good for you" Functional Beverages." says Bobby Chacko- President and CEO of EYL Beverages.
EYL's current portfolio is in Ready to Drink (RTD) format with a liquid content that is delicious with a balanced mix of active herbs/botanicals, vitamins and rich anti-oxidants. Their products boast All Natural, Zero Calories, Doctor Endorsed, and Ancient Remedy as core product attributes.
EYL Beverages Inc. has a robust innovation pipeline that consists of 10+ products that will be commercialized under the "Enrich Your Life !"™ brand marketing umbrella to support consumers in stress relief to menopause relief to heart health support to system cleanse support…etc. culminating in a socially conscious Liquid Functional Nutrition beverage company that focuses on function.
"It is very refreshing to see a product and a company adopting the "proactive" or "preventative" approach in health management as seen in many eastern cultures. It isn't often a company's branding conveys the meaning we all want to experience- "Enrich Your Life!". " says Dr. Rafael Perez-Director, Center for Urogynecology and Advanced Laparoscopic Surgery, Miami, Florida.
EYL Beverages Inc.
4355 Cobb Parkway
Suite J272
Atlanta, GA 30339
(404) 592-5395
# # #