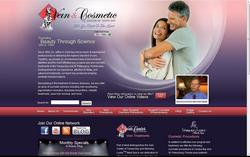 Tampa, FL (Vocus) March 18, 2010
Dr. Jeffrey Hunt, a vein specialist in Tampa Bay, Florida, is utilizing major advancements in laser technology designed to treat both mild and severe forms of skin damage. Founder of the Vein & Cosmetic Center of Tampa Bay, Dr. Hunt runs a comprehensive practice that offers vein treatment for conditions such as spider and varicose veins, as well as plastic surgery options and cosmetic enhancement procedures. In addition, Dr. Hunt is using Pixel CO2® laser resurfacing and the ActiveFX™ and DeepFX™ laser systems for skin renewal. He says the latest advances in laser skin resurfacing have made it possible to give patients smoother, more healthy-looking skin in less time than it takes with other skin rejuvenation methods. Plus, some of the new systems Dr. Hunt uses for laser skin renewal have recently made headlines because of their effectiveness at treating skin that has been severely damaged by scarring and other conditions.
Having become more and more popular over the years as less invasive ways of enhancing skin texture and tone than major surgical procedures, laser skin resurfacing is geared toward eliminating damaged skin cells and replacing them with healthier dermal layers. Dr. Hunt says these techniques can be helpful for people who suffer from the mildest forms of skin damage or signs of aging, to those affected by major skin conditions and uneven skin pigmentation.
CO2® Laser Skin Resurfacing
Dr. Hunt says one of the prime examples of the innovations made in laser skin rejuvenation treatments is the CO2 laser. At his practice, Dr. Hunt uses the Pixel CO2® Fractional Laser Solution for patients considering laser skin resurfacing in Tampa Bay, Florida who want to diminish the appearance of wrinkles, sun damage, and other signs of age. Dr. Hunt says this treatment system actually stimulates the growth of collagen and brings forth newer, healthier layers of skin. The system includes components that are designed to leave the skin intact during treatment, which speeds up the healing process and typically reduces the recovery time. Approved by the U.S. Food and Drug Administration, Dr. Hunt says one of the chief benefits of the Pixel CO2® Fractional Laser Solution and other CO2® laser resurfacing systems is that they often do not require a heavy series of treatments to yield optimal results. Plus, Dr. Hunt says typical treatment sessions last less than 30 minutes and can often be performed on a patient's lunch hour. And, with just a few days of "social downtime", his patients are eager to reap the dramatic benefits of new CO2 technology.
ActiveFX™ and DeepFX™ Laser Skin Treatments
Dr. Hunt says, as the technology continues to develop and improve every day, there are more and more options for patients to attain effective skin rejuvenation in less time and without a series of treatments. One of the newest laser skin resurfacing techniques available at Dr. Hunt's practice is the ActiveFX™ and DeepFX™ laser system. The ActiveFX™ treatment is a fractional laser procedure known for its ability to provide significant improvement of the skin in just one treatment. Designed to treat skin areas affected by sun damage, wrinkling, uneven pigmentation, and age spots, ActiveFX™ is on its way to becoming one of the more popular methods of restoring the skin to a healthier, smoother appearance. Dr. Hunt says the DeepFX™ laser treatment can be performed to treat even more severe issues with the skin, including deep scarring (scars resulting from burn wounds), and dermal lesions. The ActiveFX™ and DeepFX™ laser treatment system is designed to promote healthy skin growth and even tighten the skin for noticeable rejuvenation with long-lasting results.
About Dr. Jeffrey Hunt
Dr. Jeffrey Hunt is known as one of the leading vein specialists in the southeast region. The Medical Director of Vein & Cosmetic Center of Tampa Bay and Stunning Looks™ Medi Spa, Dr. Hunt is board-certified by the American Osteopathic Board of Family Physicians. He is among the first physicians in the U.S. to earn certification by the American Board of Phlebology (ABPh) for vein treatment. Dr. Hunt is a Fellow of the American Society of Laser Medicine and Surgery, and a member of numerous medical organizations, including the American Society of Aesthetic Mesotherapy, the American College of Phlebology, the American Osteopathic Society, the Florida Osteopathic Medical Association, and the American Osteopathic Board of Family Physicians. His Tampa Bay, Florida vein treatment center also includes a variety of aesthetic enhancement options available from board-certified plastic surgeon Christopher J. Schaffer, M.D. and Family Nurse Practitioner Kristen Thornley Walsh, A.R.N.P., M.S.N. The practice has been serving the Tampa and St. Petersburg, Florida region since 1992.
For more information on laser skin resurfacing, vein treatment, and BOTOX® in Tampa Bay, Florida, the Vein & Cosmetic Center of Tampa Bay can be reached at Suite 125, 3001 North Rocky Point Drive, Tampa, FL 33607 – (888) 434-9192. http://www.veincentertampa.com.
###