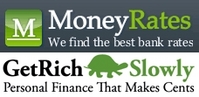 We have to do a better job of educating the next generation about how to enjoy their money responsibly
Foster City, CA (PRWEB) March 9, 2010
Did your parents prepare you well for financial independence? If this question leaves you shaking your head "no," you are not alone, according to the results of an informal poll conducted by leading financial education Web sites GetRichSlowly.org and MoneyRates.com. Almost half, or 47 percent, of the 1,122 poll respondents from both sites said, "What preparation for financial independence?"--an alarming but perhaps not so shocking result.
Editor J.D. Roth of GetRichSlowly.org suspects that some parents try to shield their kids from the burdens of family finances but said this does more harm than good. Roth advised parents to teach children about money from a young age by letting them see how and why various financial decisions are made. "If they see the challenges you face, they can prepare for them in their own lives," said Roth.
Combined GetRichSlowly.org and MoneyRates.com poll respondents reported the following:
18 percent said, "Yes, they did a great job in preparing me."
17 percent said, "They did well--I learned the basics."
18 percent said, "It was okay, but they missed some key areas."
47 percent said, "What preparation for financial independence?"
"Talk about a life lesson," said MoneyRates.com personal finance expert Richard Barrington. "Lessons about money are tools your kids can use from the first time they want to save up for something through their retirement. We've seen the problems caused by a generation that was raised with too much easy credit and too little education about financial responsibility. We have to do a better job of educating the next generation about how to enjoy their money responsibly."
According to Roth, there are a variety of ways parents can prepare their children for a successful financial future. He encouraged parents to make the process interactive by involving children in frugal activities that teach them self-sufficiency, such as gardening, baking and home repairs. As children get older, parents can help them comparison shop and show them how to pay bills, check a credit score, or research and buy a car.
GetRichSlowly.org readers chimed in with their childhood experiences ranging from simple ("In junior high, my parents gave me $400 at the beginning of the year instead of a weekly allowance. They told me I could do whatever I wanted with it, but they weren't giving me any more money the rest of the year, so don't ask") to sophisticated ("My parents printed family checks for my allowance. I could write checks to my parents in first grade! They also gave me monthly statements.")
"In order to raise money-smart kids, you need to be open about your family's financial situation" and make them part of the household management team, wrote Roth in a recent blog post. (To see more ideas from GetRichSlowly.org readers and for more tips about how to raise money-smart children, visit "What Did Your Parents Teach You About Money?"
Visitors to both GetRichSlowly.org and MoneyRates.com can access educational articles and interest rate reports to help them with setting and achieving their financial goals in any economic situation.
GetRichSlowly.org--currently the #1 finance blog as ranked by Technorati--is an online community devoted to sensible personal finance. Since 2006, GetRichSlowly.org has provided thousands of active readers with a forum to learn about and discuss saving money, eliminating debt and pursuing practical paths to accumulating wealth. The site is among "The Top 100 Personal Finance Web sites," according to Liz Weston of MSN, and has been named "The Most Inspiring Money Blog" by CNN's Money magazine.
MoneyRates.com has been a leading source of information on bank rates, personal finance, savings accounts and investing since 1999. The site provides the highest rates on certificates of deposits, money market accounts and high-yield savings accounts.
All writers at GetRichSlowly.org and Richard Barrington of MoneyRates.com are available for interviews on this and other topics relating to personal saving and investing. To request an interview, please contact:
Jessica Austin
650-578-6880
pr(at)GetRichSlowly.org
pr(at)MoneyRates.com
###