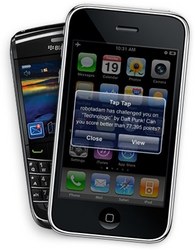 "Our customers have been clamoring for Urban Airship on all their apps so they can deliver content to users on whichever phone they carry in their pockets." —Scott Kveton, CEO, Urban Airship
Portland, OR (PRWEB) March 10, 2010
Urban Airship, provider of mobile messaging and content-delivery infrastructure, is extending functionality of its popular push notification services to both Android-compatible phones and Research in Motion (RIM) BlackBerry® smartphones. A fully functional infrastructure for the RIM platform is available now, with support for the Android platform coming soon. Mobile publishers can now reach more users, on more platforms, without adding complexity to the integration or maintenance. Urban Airship will continue to extend functionality of its services to additional platforms in the coming months.
As Urban Airship has proven with the iPhone market, interactive mobile features such as push notifications are in high demand by users, as evidenced by the more than 160 million push notifications sent on Urban Airship's iPhone platform since Apple announced support for it in mid-June 2009.
This explosion in demand, coupled with the rise of multiple mobile platforms, poses a challenge for application developers, who often face limited time and know-how to develop and maintain multiple infrastructures. As developers and publishers are increasingly called upon to support a broad range of popular devices, the option to offload this sophisticated task to Urban Airship is attractive. Mobile publishers integrate the Urban Airship push services directly into their apps and then can use the simple API to send notifications in real-time directly to user devices even when their applications are not open.
With the completion of phase I of its multiplatform strategy complete, Urban Airship—which last month announced a Series A round of venture capital funding—will be powering push on mobile apps to users of iPhone, BlackBerry and Android handsets. Its diverse client base uses push notification to engage users with apps from music artists, game developers, media corporations and other information providers. "Publishers don't care what kind of device their users carry in their pockets. They just want to reach as many users as they can," says Kveton. "Our customers have been clamoring for Urban Airship on all their apps so they can deliver content and engage with their users on whichever smartphone they carry in their pockets."
The growth of mobile features like push notification is also welcome news to cell phone service providers, who are grappling with issues of network scarcity in response to user demand for data in mobile devices. As smartphone usage has grown—up 55% last year in the United States alone, according to comScore—the wireless broadband networks have become congested, causing a global "capacity crunch." Urban Airship's efficient web-based services fulfill user demand for data-driven apps with negligible impact on carrier networks. Mobile infrastructure alleviates strain felt by network carriers from bandwidth-hungry smartphones by offering a single, efficient means of push notifications so developers can stop polling for data with expensive background application processes or maintaining their own infrastructure to do it. By utilizing push notifications on their mobile applications, instead of pulling resources, developers can minimize the network footprint for each device.
With at least four to five extremely relevant platforms for mobile application delivery, infrastructure demands will grow in lockstep with user demand. "Someone has to bake all this infrastructure," says Scott Kveton, CEO and co-founder of Urban Airship. "That someone is us."
About Urban Airship
Urban Airship delivers a new mobile content delivery channel that offers a real-time, direct-to-person experience for smartphone users. Its scalable infrastructure and easy-to-use tools enable businesses and mobile publishers to rapidly monetize their apps and enhance their brand and engagement with customers. Instead of having to build a required cloud infrastructure to support push notifications and in-app purchase functionality to their mobile apps, businesses and publishers can offload this expensive burden onto Urban Airship. The privately held company is based in Portland, Oregon. For more information, interested parties can visit http://www.urbanairship.com.
Press Contact:
Jessica Davis
Urban Airship
503.756.8908
###